Update 0: September 30th
Eric and Nicole arrived from their respective home states—Ohio & Alabama—and quickly settled into their new apartment. Then we all got down to business. In this, the first of 19 posts, we establish some benchmarks, some strategies, and they take their first bites towards obesity.
The Future Lies Before Us
Our two subjects arrived anxious and hungry. A few days before, over the phone, we all three agreed that they should fast for a little while before the official weigh-in, to drive their "base weight" down a bit and give them a leg-up on their goal.
Weigh-In
At around 11 that night Nicole, Eric, and a few of our friends came back to their place for the official weigh-in and paunch-launch ceremony. Food was ordered and delivered—Domino's delivered four pizzas and four liters of Coke, and a sullen man in a windbreaker dropped off chicken fried-rice, sesame beef, and eight egg-rolls. For my part, I brought over a pair of chocolate créme donuts that had been talking sweet to me for days from behind the counter at the local Dunkin' Donuts.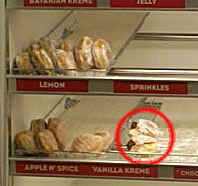 At 12 o'clock sharp, midnight Saturday night, I weighed them both. We got this special scale that also measures your body fat by running a small electric current through your feet. I'm positive this is totally safe.
Anyhow, Eric officially weighed in at 174 lbs, and his body fat was 17%, which means he has about 30 pounds of fat on him already. That's a good start.
Nicole weighed 121.5 lbs. with only 9.5% fat. In pure weight terms, she'll need to nearly triple the fat on her frame in the next 30 days.
By the way, this is Nicole trying to "look fat." I have grave worries about her powers of visualization.
compare & contrast superficial traits