Find better matches with our advanced matching system
—% Match
—% Friend
—% Enemy
Mach10X
31 / M / Straight / Seeing someone
Pensacola, Florida
His journal posts
Jun 18, 2009
As I wrote briefly about in my photo captions, the photo I took on March 27, 2009 completely disgusted me. How had I let myself get so heavy?!? Sure I can make excuses such as "I was so depressed by the passing of my mother," or "I got a cushy desk job answering phones." Well regardless of the cause of my condition it's time I did something about it!
I saved up some cash and bought a really nice recumbent exercise bike, the Schwinn 231.
I also got a top of the line wearable heart rate monitor.
Well, this was all in April, the month of May saw more planning and plans for diets etc. Well today, June 18, 2009 I realized that I needed to put it all together and get SERIOUS about this!
Changes I made today. No more fast food with the exception of HEALTHY Subway sandwiches. I'll have to research other healthy picks (anyone know any other healthy fast food picks?). I also completely cut out sugar drinks. My primary beverages are now diet Coke, Unsweetened tea (plus Sweet-n-Low), and water.
I also got some nice ankle weights and foam covered free weights to pass the time at work between (or even during) calls. The ankle weights were....interesting, but I loved playing with the free weights all day. I figure that any activity at my desk will burn more calories than just sitting there.
I've also started geocaching which is a great way to burn calories. I've been having an absolute blast so far! For those of you that don't know...
Geocaching (pronounced geo-cashing) is a worldwide
game of hiding and seeking treasure. The basic idea
is to hide containers (caches) and post the locations
of these caches on the Internet. Anyone with a
GPS receiver can enter the locations' coordinates
to find the caches and then log the caches at
www.geocaching.com to show that they've found
them.
Geocaching participants include people from all age
groups, including families with children, students,
adults and retirees. It is a worldwide activity with a
strong sense of community and support for the
environment. Since September of 2000, geocaching
has grown from 75 caches in several countries to
hundreds of thousands of caches all over the world.
I've posted a new photo today showing the 20lbs I've lost and 4 inches of hair I've gained in the last 3 months. My goal for the next 3 months is 30 more lbs.
Any comments you can give to keep me going strong are welcomed!
Jun 2, 2008
I suddenly realize today that I haven't seen my cat Amber for going on 4 days now. She can be somewhat independent but I usually see her at least once a day. My sister recently rescued a kitten and has adopted it. I truly hope this didn't cause her to run off. Besides Amber and the kitten there are two other cats living here, one of which has been spending a lot of time in my bedroom and may have further alienated Amber. Amber hasn't been wearing her collar lately and I fear the worst has happened.
Amber is about 5 years old. Here are some pictures. Come home soon Amber!
**UPDATE** Now a second cat, Blossom, has gone missing. She was last seen this morning June 4, 2008. A neighbor on my same street responded to my poster for Amber is missing two of her own cats and her neighbor is missing one cat. Two went missing the first week of May and the other went missing just about the same time as Amber did on about May 29, 2008. I've already searched through the animal services government website and listed both animals as missing on Petharbor.com which directly cooperates with my local animal shelters and government run animal services. Unfortunately the street we live on makes a large loop and is surrounded by miles of forest on a couple of sides. I certainly hope this is a predator such as a Cougar (Mountain Lion) or Alligator rather than some sick individual. I've included a picture of Blossom below.
Amber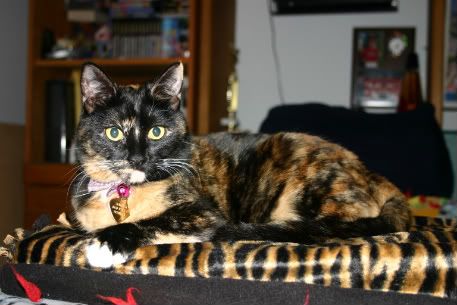 Blossom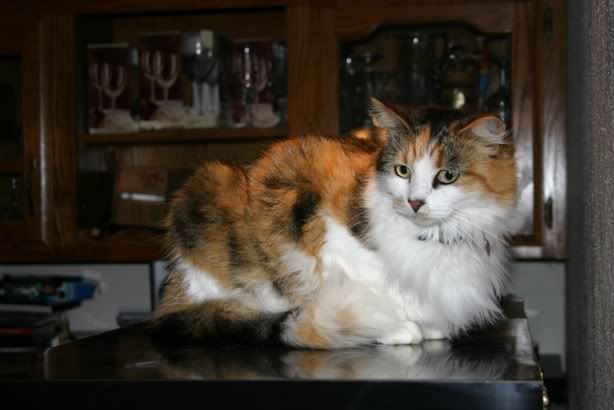 Aug 17, 2007
How many continents are there?
I know that most of you probably learned that there are 7 continents in school. I was lucky enough to be taught, in two different classes, that it's more academically accepted to treat Europe and Asia as a single continent - Eurasia. It makes sense doesn't it? It's clearly a single large landmass. I'll leave you with a quote from Wikipedia (this entry is cited): "The division of the landmass of Eurasia into the separate continents of Asia and Europe is an anomaly with no basis in physical geography. The separation is maintained for historical and cultural reasons."