The Fallen Angel Test
Their result for The Fallen Angel Test ...
Congradulations, you're a HUMAN! You're morally balanced and you have no loyalties with evil or good. You're like the bisexual of the morality scale. This is technically the best place to be, because you get the best of both worlds with none of the consequences. Unlike your counterparts, you have no job in the grand scheme of things. Just lay back and entertain yourself watching the dumb DEMONS and ANGELS fight for their territory.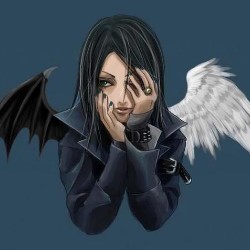 Their Analysis
(Vertical line = Average)
They scored 43% on Morality, higher than 38% of your peers.
All possible test results
Congradulations, you're a DEMON! Yeah, so you're going straight to hell, but at least you'll have fun on your way there. Satan thinks you're A-OK! Your goal in life is to corrupt the HUMAN and ANGEL i... Read more
Congradulations, you're a HUMAN! You're morally balanced and you have no loyalties with evil or good. You're like the bisexual of the morality scale. This is technically the best place to be, because ... Read more
Congradulations, you're an ANGEL! You're definitely the most boring out of the bunch, but at least you get to laugh your way to Heaven. God thinks you're A-OK, isn't that enough? You're job is to conv... Read more
Take this test »
Recent Results
Tests others are taking