The Rock The Concert Test
Their result for The Rock The Concert Test ...
On the Barrier
Dude, you totally landed a score of 79 Badassness!
Crushed up against the barrier by the crowds to your back, you're heads next to the speaker and you can feel the sweat from the lead singer. Just watch out man, cause your hearing ain't gonna last forever.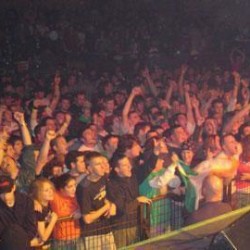 Their Analysis
(Vertical line = Average)
They scored 79% on Badassness, higher than 94% of your peers.
All possible test results
You are either to lame to go to a concert, you listen to shitty music or you are too scared of the other people to have any fun. Do yourself a favor, grow a pair. Read more
Your probably just hanging out listening to the music, which isn't a bad thing, but man, live it up, do something crazy. You gotta totally strive for Carpe Diemation. Read more
You're the guy that just rides on top of the hands of the masses, living it up in the moment. Just watch out that the crowd doesn't steer you towards a mosh pit, and watch out for the security dude a... Read more
Crushed up against the barrier by the crowds to your back, you're heads next to the speaker and you can feel the sweat from the lead singer. Just watch out man, cause your hearing ain't gonna last fo... Read more
Fuckin' A! You are a badass. Your probably headbanging right now. Nothing scares you, willing to take on anybody and leave them in your wake. You probably got battle scars from the Pit. Hit me up... Read more
Take this test »