The Score a Date! Test
Their result for The Score a Date! Test ...
Pro
Congratulations! You scored ### Datepoints!
Don Juan, you are. And I am... available. You treated our Alex like the princess she is, even though at the end she fo-ripped out your heart and fo-ate it. So it goes. Even the best lover can still use some tips from time-time, so here you are:
1. Don't be so goddamn cocky.
2. No matter if you're both relatively non-materialistic people or poor, a little store-bought gift is always a sweet gesture.
4. Nobody is above a good, solid kiss on the cheek.
3. Even for a well seasoned lover, this trick will go a long way: Swirl, then "come hither."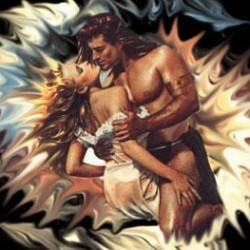 Their Analysis
(Vertical line = Average)
They scored 38% on datepoints, higher than 96% of your peers.
All possible test results
Oh, you poor little child. Either you lied on this test or you're simply clueless. I think you owe an apology to our pseudo-date, Alex. Either way, I may have some tips for you: 1. Stay conf... Read more
Now, you're not exactly a bad date. You're not a *good* date, either. And it really isn't that hard to be a good virtual date, so I'm a bit disappointed. No worries--I have some hints for the real ... Read more
You're well on your way to being a good date. There are still some minor mistakes you've made with Alex, but s/he is both androgenous and fake... So you still have some time before the real thing bit... Read more
Don Juan, you are. And I am... available. You treated our Alex like the princess she is, even though at the end she fo-ripped out your heart and fo-ate it. So it goes. Even the best lover can stil... Read more
Take this test »
Recent Results

GrayscaleVision23 / m / Bisexual
Tests others are taking