The Could You Be A Good Dominatrix Test
Goddess
You are, quite simply, mind-blowingly and unbearably hot.

You would not just be a "good" dominatrix. You would be - hell, you *are* - a stunning and breathtaking sexual experience for whatever man is lucky enough to be captured by you.

Whatever you do, don't let your talents go to waste. Use them. Nurture them. Impart them to others. And, if all else fails, call me ;-) Thank you for taking my test, Ma'am - I hope we can meet someday.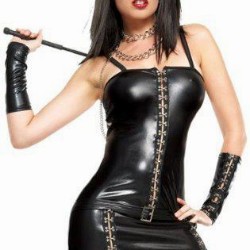 All possible test results
At this point in your life, it doesn't look like you're all that into playing the "dominant female" role. But don't despair - the fact that you even wanted to take this test is encourag... Read more
At this point in your life, it doesn't look like you're all that into playing the "dominant female" role. But don't despair - the fact that you even wanted to take this test is encourag... Read more
You clearly know your way around the dungeon. You're probably pretty good with ropes, handcuffs, and all the rest of it. You may even have a small collection of toys already. Having sai... Read more
You clearly know your way around the dungeon. You're probably pretty good with ropes, handcuffs, and all the rest of it. You may even have a small collection of toys already. Having sai... Read more
You clearly know your way around the dungeon. You're probably pretty good with ropes, handcuffs, and all the rest of it. You may even have a small collection of toys already. Having sai... Read more
You clearly know your way around the dungeon. You're probably pretty good with ropes, handcuffs, and all the rest of it. You may even have a small collection of toys already. Having sai... Read more
Oh my - you clearly have the instincts and the desire to take charge in the bedroom. With your attitude, you probably have no shortage of willing partners. You may not be at the very t... Read more
Oh my - you clearly have the instincts and the desire to take charge in the bedroom. With your attitude, you probably have no shortage of willing partners. You may not be at the very t... Read more
You enjoy being in charge and it shows. You know just what to do to have your partner at your beck and call. And if he should become unavailable, no doubt there are men lined up to do your bidding. ... Read more
You enjoy being in charge and it shows. You know just what to do to have your partner at your beck and call. And if he should become unavailable, no doubt there are men lined up to do your bidding. ... Read more
You clearly know your way around the dungeon. You're probably pretty good with ropes, handcuffs, and all the rest of it. You may even have a small collection of toys already. Having sai... Read more
You clearly know your way around the dungeon. You're probably pretty good with ropes, handcuffs, and all the rest of it. You may even have a small collection of toys already. Having sai... Read more
Oh my - you clearly have the instincts and the desire to take charge in the bedroom. With your attitude, you probably have no shortage of willing partners. You may not be at the very t... Read more
Oh my - you clearly have the instincts and the desire to take charge in the bedroom. With your attitude, you probably have no shortage of willing partners. You may not be at the very t... Read more
Oh my - you clearly have the instincts and the desire to take charge in the bedroom. With your attitude, you probably have no shortage of willing partners. You may not be at the very t... Read more
Oh my - you clearly have the instincts and the desire to take charge in the bedroom. With your attitude, you probably have no shortage of willing partners. You may not be at the very t... Read more
You are, quite simply, mind-blowingly and unbearably hot. You would not just be a "good" dominatrix. You would be - hell, you *are* - a stunning and breathtaking sexual experience for wh... Read more
You are, quite simply, mind-blowingly and unbearably hot. You would not just be a "good" dominatrix. You would be - hell, you *are* - a stunning and breathtaking sexual experience for wh... Read more
Take this test »
Recent Results
Tests others are taking