The Sense of Humor Test
Their result for The Sense of Humor Test ...
PBS Sit-Com-ic
35% Direct, 54% Intelligent, 45% Offensive, and 49% Witty!
Subtle
- You like your comedy to have some depth, and/or abstract. Something that's funny on multiple levels. If a joke can appeal to you for multiple reasons it's more likely to keep your interest than one that's too obvious. Puns and Sarcasm are both right up your alley. Douglas Adams and Piers Anthony should appeal to this side of your personality.
Smart
- You like your comedy smart. You like to think and jokes about politics, or jokes that "take a second" for the average person to get appeal to you. Obscure references and "High-brow" formats tweak your interest and keep you satisfied. Dennis Miller and Bill Maher are good examples.
Clean
- You like your comedy to be non-offensive. You're more likely to enjoy a G rated comedy than one that's rated R. Bill Cosby is the ultimate clean Comic. Jeff Foxworthy is equally well known and loved.
Slow
- You like your comedy to be free flowing, as long as you laugh a couple of times, and it's entertaining, you're probably happy. Steven Wright is the ultimate slow comic, with his smooth and unhurried monotone. This tends to be the type of comedy that comes out in everyday conversation. Or maybe you just like big long jokes that pay off in the end.
British comedies- like Red Dwarf, Ready to Wear, and others- probably hit most of your likes. Especially those from the early 1990s and before. Monty Python is probably already "old hat" for you, and if it's not it should be. Anything PBS would show is going to whet your palate nicely, I should think.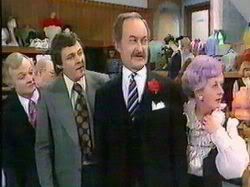 The Higher your Directness Score, the more obvious you like your comedy to be. Sarcasm is less direct than a pratfall.
The Higher your Intelligence Score, the more intelligent you like your comedy to be. In this instance I distinguish what is commonly referred to as "low-brow" and "high-brow". Sarcasm is more high-brow, while pratfalls are more "low-brow".
The Higher your Offensiveness Score, the more offensive you like your comedy to be. Whether you like a lot of cursing, or you laugh more at insults than standard jokes; or maybe you just like challenging social "rules".
The Higher your Wit Score, the faster you like your comedy to be. Wit is a combination of things, but the primary factor in this test is the Tempo of the joke. One-liners are more witty than the Wrestler Joke, because they're faster.
Obviously I'm not measuring every aspect of your Sense of Humor, or Humour for some of our European friends. However, I hope the test was fun and enjoyable. Any questions, comments, and/or ratings would be appreciated.
Their Analysis
(Vertical line = Average)
They scored 35% on Directness, higher than 53% of your peers.

They scored 54% on Intelligence, higher than 79% of your peers.

They scored 45% on Offensiveness, higher than 66% of your peers.

They scored 49% on Wit, higher than 35% of your peers.
All possible test results
Subtle - You like your comedy to have some depth, and/or abstract. Something that's funny on multiple levels. If a joke can appeal to you for multiple reasons it's more likely to keep your int... Read more
Subtle - You like your comedy to have some depth, and/or abstract. Something that's funny on multiple levels. If a joke can appeal to you for multiple reasons it's more likely to keep your int... Read more
Subtle - You like your comedy to have some depth, and/or abstract. Something that's funny on multiple levels. If a joke can appeal to you for multiple reasons it's more likely to keep your int... Read more
Subtle - You like your comedy to have some depth, and/or abstract. Something that's funny on multiple levels. If a joke can appeal to you for multiple reasons it's more likely to keep your int... Read more
Subtle - You like your comedy to have some depth, and/or abstract. Something that's funny on multiple levels. If a joke can appeal to you for multiple reasons it's more likely to keep your int... Read more
Subtle - You like your comedy to have some depth, and/or abstract. Something that's funny on multiple levels. If a joke can appeal to you for multiple reasons it's more likely to keep your int... Read more
Subtle - You like your comedy to have some depth, and/or abstract. Something that's funny on multiple levels. If a joke can appeal to you for multiple reasons it's more likely to keep your int... Read more
Subtle - You like your comedy to have some depth, and/or abstract. Something that's funny on multiple levels. If a joke can appeal to you for multiple reasons it's more likely to keep your int... Read more
Obvious - You like to get your comedy instantly. Things like pratfalls, slapstick, funny faces, and those videos of people getting hurt in extraordinary ways always make you laugh. Maybe you ... Read more
Obvious - You like to get your comedy instantly. Things like pratfalls, slapstick, funny faces, and those videos of people getting hurt in extraordinary ways always make you laugh. Maybe you ... Read more
Obvious - You like to get your comedy instantly. Things like pratfalls, slapstick, funny faces, and those videos of people getting hurt in extraordinary ways always make you laugh. Maybe you ... Read more
Obvious - You like to get your comedy instantly. Things like pratfalls, slapstick, funny faces, and those videos of people getting hurt in extraordinary ways always make you laugh. Maybe you ... Read more
Obvious - You like to get your comedy instantly. Things like pratfalls, slapstick, funny faces, and those videos of people getting hurt in extraordinary ways always make you laugh. Maybe you ... Read more
Obvious - You like to get your comedy instantly. Things like pratfalls, slapstick, funny faces, and those videos of people getting hurt in extraordinary ways always make you laugh. Maybe you ... Read more
Obvious - You like to get your comedy instantly. Things like pratfalls, slapstick, funny faces, and those videos of people getting hurt in extraordinary ways always make you laugh. Maybe you ... Read more
Obvious - You like to get your comedy instantly. Things like pratfalls, slapstick, funny faces, and those videos of people getting hurt in extraordinary ways always make you laugh. Maybe you ... Read more
Take this test »
Recent Results
Tests others are taking