The which of the Endless are you? Test
Their result for The which of the Endless are you? Test ...
Dream
Congrats! You scored ###!
Lord Morpheus, King of Dreams, Master of the Brood. Okay, I made that last one up. Dream is always either out for revenge or recovering from his latest failed romance. You want love? This guy will give you all the dreams of all the universe, a place of love and worship, his complete devotion...until you reject him. Then the brooding. And the rains. And the nightmares. And if you really hurt him, its off to Hell for a few thousand millenia. He's the ultimate Emo boy, just with a lot less whining and a real job. He's close to his older sister, Death, and that's saying a lot. I still love him, tho. :P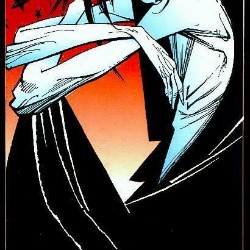 Their Analysis
(Vertical line = Average)
They scored 40% on endless points, higher than 97% of your peers.
All possible test results
You'd think someone who reads the happenings of all the universe would not be as dull as Destiny. He doesn't control what happens, but just makes sure it happens as it is written. Somber, cryptic and ... Read more
Despair may not be the most esteem-building of title, but she's really a thoughtful creature who is loyal to her twin Desire, even if she doesn't want to. She also holds a deep place in her hear for h... Read more
Desire is not exactly androgynous, but more multi-gendered. He/She/It is easily the most cruel of the Endless. Instead of ensuring the continuation of humanity in the natural ways, he/she/it likes to ... Read more
For such a realm, this guy's pretty jolly. Likable, out-going and personable, Destruction used to spend an increasingly worrisome amount of time in the world of us humans. Then, about 3 centuries back... Read more
She's cute, spunky and fun. Wait...this is Death, right? Indeed. She's fully aware of the weight of her responsibilities, but takes it all in stride. She loves all humans, knows them inside and out an... Read more
Umm...yea. Delirium is a very unusual perpetual young woman. She used to be Delight, but the world changed and so did the people in it, morphing her function and her being as well. She's generally ver... Read more
Lord Morpheus, King of Dreams, Master of the Brood. Okay, I made that last one up. Dream is always either out for revenge or recovering from his latest failed romance. You want love? This guy will giv... Read more
Take this test »
Recent Results
Tests others are taking