The Invader Zim Test
Their result for The Invader Zim Test ...
ZIM!!
Your level of Invaderness is 96%!
You've done it! You are ZIIIIM!! Congratulations! You obviously have watched the show religiously and have a great love for all things Zim. You have my congratulations, NAY!! You have my admiration! Now go and make food with your iron fist and work your way up to ruling the world with your iron fist. YOU! Obey the FIST!!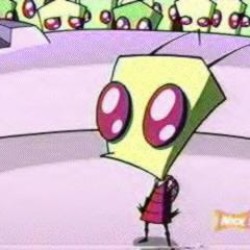 Their Analysis
(Vertical line = Average)
They scored 96% on Invaderness, higher than 86% of your peers.
All possible test results
*GASP* You're the Scary Chihuahua!! No one really knows what you are and you appear often at random and pointless times but you are important nonetheless!! Unfortunately, you don't really know anythin... Read more
Oh now that's just sad. Could you get any shorter!? Sadly my friend, you are Invader Skoodge. You're not very bright and definitely not Invader material. How did you become an Invader anyway? So becau... Read more
Congratulations!! You are Zim's robot henchman Gir! The bad news is the Gir isn't too smart (and neither are you when it comes to the show). The good news is that AMERICA LOVES GIR!! So be happy and g... Read more
Ahh Gaz. What could be cooler than a chick with purple hair who loves video games!? I can't think of anything! Gaz is not only cool, but scary and tough as hell. It's a good thing for Zim that Gaz isn... Read more
Good job. You have obviously watched most of the Invader Zim episodes and are a fan of the series. You are Tak. Zim ruined your chance at becoming an Invader a long time ago and now you have come to E... Read more
Impressive! You seem to know a great deal about the Invader Zim series! And because of that you are Dib. For some reason you are the only human being who seems to recognize that Zim is an alien bent o... Read more
Your knowledge of Zim is most impressive. You are the Almighty Tallest! What could be better than riding around in a big...spaceship...gang while eating donuts and drinking soda? I can't think of anyt... Read more
You've done it! You are ZIIIIM!! Congratulations! You obviously have watched the show religiously and have a great love for all things Zim. You have my congratulations, NAY!! You have my admiration! ... Read more
Take this test »