The Darkness of Mind Test
Their result for The Darkness of Mind Test ...
Batman
You scored 52 darkness...
You love violence of spirit and mind. More than that you enjoy the idea that you are better than everyone else and that you can be judge, jury, and executioner. If you have a conscience, go vigilante. We need those scumbag criminals off the streets, and you're just the person to do it. If people get on your bad side, there's no limit to the pain and suffering you can give them.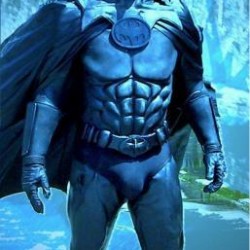 Their Analysis
(Vertical line = Average)
They scored 52% on darkness, higher than 64% of your peers.
All possible test results
You sick pervert. I can't believe you're this cheerful. Into the deepest pits with you, and don't come out until you've learned life is a cruel hard journey towards death. I bet people love you. Read more
You enjoy the occasional violence, but then again, who doesn't? It's all about how much you can do and what you can do with it. You're barely dark and just feed into your carnal desires because you ca... Read more
You love violence of spirit and mind. More than that you enjoy the idea that you are better than everyone else and that you can be judge, jury, and executioner. If you have a conscience, go vigilante.... Read more
You want it. It is lurking in the shadows but avoids you. You so desperately want a part of it. On a daily basis you think, "Please death, come for me. I'm so tired." Keep wishing. It won't come any f... Read more
Take this test »