The Bovarchy Test
Their result for The Bovarchy Test ...
Moo-cow Lover!
You scored 95% bovine freedom!
You are among the elite bovarchists! You might even be a moo-cow yourself! Maybe you want to make love with a bovine, too? I can't say I blame you, but a word of advice: emit the bovine mating call at your own peril. Sometimes they don't stop until they've milked 50 gallons out of you...or if you're female, until they've shot 50 gallons in you!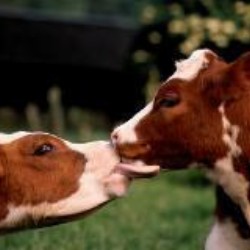 Their Analysis
(Vertical line = Average)
They scored 95% on bovine freedom, higher than 100% of your peers.
All possible test results
Either you're indifferent about the bovarchist movement and its means of reform, couldn't care less about the revolution, or outright think bovines and bovarchists should all be ground beef. We bovarc... Read more
You're a mild sympathizer with the bovarchist movement and are perhaps a bit tentative about the bovarchist ideal but yet still remain intrigued. You understand the plight of bovines and can comprehen... Read more
You are most likely an ardent supporter of the bovarchist movement and could (enthusiastically) cope with living in a bovarchist society. You're not radical enough to make love with bovines but with a... Read more
You are among the elite bovarchists! You might even be a moo-cow yourself! Maybe you want to make love with a bovine, too? I can't say I blame you, but a word of advice: emit the bovine mating call at... Read more
Take this test »