The Futurama Personality Test
Their result for The Futurama Personality Test ...
Amy Wong
The results are in... You scored ###
You are Amy! The daughter of wealthy landowners, your primary responsibility at Planet Express is basically to be cute. You dated Fry briefly, but he dumped you when he became scared of commitment. You know you're cute, and so does everyone else. Unfortunately, not everyone is as thrilled about that as you are...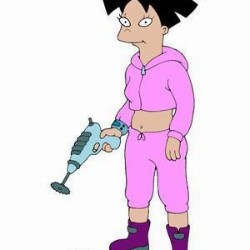 Their Analysis
(Vertical line = Average)
They scored 54% on futuramapoints, higher than 63% of your peers.
All possible test results
Your personality matches that of Dr. Hubert Farnsworth. You are perpetually grumpy but you love indulging in your hobby of inventing bizarre devices. Also, you enjoy sending your delivery crews on sui... Read more
Your personality matches that of Planet Express's resident physician, Dr. John Zoidberg. Although your medical training is highly suspect, you almost never deliberately harm patients... You are desper... Read more
You match with Hermes, the bureaucrat and chief accountant at Planet Express. You could be accused of being somewhat boring, but you rather see it as prudence and caution. You do have a wild side, and... Read more
You are Fry! Ambition? Nonexistent. You were a social outcast in the 20th century, and now in the 30th century, you're still an outcast, but at least you've met some people who are just as unpopular a... Read more
You are Amy! The daughter of wealthy landowners, your primary responsibility at Planet Express is basically to be cute. You dated Fry briefly, but he dumped you when he became scared of commitment. Yo... Read more
You are Leela! The hot mutant cyclops who pilots the Planet Express ship. Due to having to succeed in a "mans world", and having a troubled childhood, you feel the need to prove yourself through your ... Read more
You are Bender! You are made of steel, dolomite, titanium, and other metallic elements. You are the foul-mouthed, hard-drinking, immoral robot who works at Planet Express. Your primary purpose is to b... Read more
You are 25-star general Zapp Branagan, supreme commander of the Earth Fleet. Even your title sounds pretentious, which you certainly are. You may command a fleet of ships, but how you got there is any... Read more
Take this test »
Recent Results
Tests others are taking