The SIMPSONS EXPERT Test
Their result for The SIMPSONS EXPERT Test ...
Burns
Congratulations! You scored ###! Duff Points
Damn your good, you got 60% to 80%, you must have payed off the writers to give you all this info. But to get the top score you better pay a little more attention. Great Job though, and please try again. If you get 80% or better, you get a special note in the winners circle!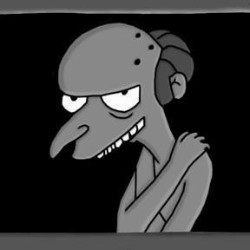 Their Analysis
(Vertical line = Average)
They scored 77% on Duff Points, higher than 47% of your peers.
All possible test results
OUCH, you need to take the SIMPSONS test before you can take this test. This is for Experts only. Thanks for trying and please try again! Read more
If you werent so drunk all the time Gill, you might have picked up a little more on those fine details. Please try again for a better score and maybe something else in the winners circle, you have to... Read more
Well you got 40% or better, i guess you know a little about the details in the Simpsons and you probly scored great on the SIMPSONS test, but try again to get one of the two higher scores. Thanks for... Read more
Damn your good, you got 60% to 80%, you must have payed off the writers to give you all this info. But to get the top score you better pay a little more attention. Great Job though, and please try a... Read more
You are the true SIMPSONS EXPERT. Give yourself a phat pat on the back baby, your one of the few who get to say "I know the simpsons". Look for the Family Guy Test comming soon, better watch for it ... Read more
Take this test »