The Sailing Compatibility Test
Their result for The Sailing Compatibility Test ...
Bluewater Sailor
You scored 80% active, 55% competitive, 75% social, and 75% adventurous!
There are two choices. Either you blithely answered yes to everything or...
Salt water runs in your veins! You will enjoy whatever you do on the water because you enjoy active, competitive, social and adventurous things - Everything that sailing is made of. Unlike my other recommendations, I urge you to try a little of everything - You will probably end up combining many aspects of a sailors life and would be very happy cruising around the world (or at least from one tropical paradise to another) or taking up the life of a professional sailor as a charter skipper or race crew. Drop me a line and if we click, I will take you out for a sail - Your choice of racing or cruising boats.
See my journal entry "Sail and Find Sailing Friends Without Going Broke" if interested.
I hope you liked this test -
Please don't forget to:
Rate this test (It's only a click)!
Tell your friends to take it!

Thanks, laughing_sailor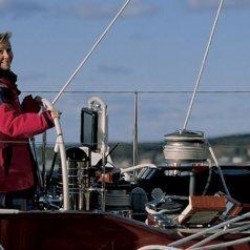 Their Analysis
(Vertical line = Average)
They scored 80% on active, higher than 77% of your peers.

They scored 55% on competitive, higher than 54% of your peers.

They scored 75% on social, higher than 89% of your peers.

They scored 75% on adventurous, higher than 49% of your peers.
All possible test results
You're a landlubber and probably would not like sailing activities, which can be active, competitive, social and adventurous but never none of them. You are valued as a target for drunk sailors to... Read more
You would make an ideal dock bum. Your taste for adventure draws you to sailing, which is in essence adventurous, while your lack of competitiveness and tendency to be sedate and careful with your... Read more
You have great deck furniture potential. Your aversion to exertion, adventure and your mellow nature makes trips on calm, sunny afternoons (Cocktail cruising, which is marvelous) on larger pleasu... Read more
You would probably be happy cruising around the world, from one tropical paradise to the next, for the rest of your life. Your love of adventure would keep you from being bored and your sociabilit... Read more
Your competitive nature will drive your success in selling boats. It's a hard job but one that allows you to work in a great environment and for those, like you, who are driven, can be very profit... Read more
You have all the attributes of a successful sailing instructor: You like others to do the work and your drive to be the best insures your students soak up a deep level of material, becoming confide... Read more
Your competitive, social nature leads you to the center of the scene: Yacht clubs. You will probably enjoy Saturday afternoon and Wednesday night races and pleasure sails on the wide variety of bo... Read more
You have all the attributes of a yachtsman - You are competitive, social and adventurous. I suggest you pair up with active friends because someone has to grind the winches and that's not somethin... Read more
Your strong focus on enjoyment of physical activities lends perfectly to solo sailing. your lack of focus on groups, risky adventures or competition allows you to truly enjoy your sailing and the ... Read more
You have all the ingredients of a solo cruiser (maybe cruising with your significant other) - Stock up on Willie Nelson CDs, save $20K to $60K, buy a boat, fix it up a bit and start exploring the w... Read more
Your active, easy going, social nature makes you a natural yacht club commodore! You probably also like local daysails and will eventually prefer stinkpots (power boats) because of their greater a... Read more
Your active, social, adventurous nature suits you perfectly to the life of a performance cruiser "Live slow, sail fast!" You will quickly master sailing well, take considerable pleasure from it an... Read more
Your competitive nature and strong enjoyment of exercise make you a natural racer. Your low social and adventure scores indicate your need for the focus and control of your environment particularl... Read more
There are few who would dare, let alone be happy with a ride on the monster pictured below and you're one of them! Your need for active, competitive and adventurous activities are all necessary. ... Read more
Your active, competitive and social nature will be perfect for big boat racing - Where the competition is fierce, the teamwork sophisticated and essential and the parties large and filled with the ... Read more
There are two choices. Either you blithely answered yes to everything or... Salt water runs in your veins! You will enjoy whatever you do on the water because you enjoy active, competitive... Read more
Take this test »
Recent Results
Tests others are taking