The Depressing 80's Band Test
Their result for The Depressing 80's Band Test ...
Echo & The Bunnymen
You scored 59% Rockability!
Your band will live in infamy thanks to "Donnie Darko." In fact, I am so sick of the beginning part of the movie that I just mute "The Killing Moon" and look at the deliciousness that is Jake Gyllenhaal. "The Cutter" was a way better song. Your lead singer also has the most attractive hair out of all of the depressing 80s bands. Congrats.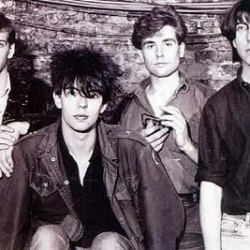 Their Analysis
(Vertical line = Average)
They scored 59% on Rockability, higher than 18% of your peers.
All possible test results
Other than your hit "Dancing With Myself," I think your music sucks. Sorry. You gave up all dignity (and the Gen X name) by moving to America and becoming MTV's "butt boy". I can't believe you covered... Read more
I really hated 1981's "Just Can't Get Enough". Thank god Vince Clarke left the band and took his crappy songwriting elsewhere... it really allows Martin Gore's ominous and sophisticated songwriting to... Read more
Your band will live in infamy thanks to "Donnie Darko." In fact, I am so sick of the beginning part of the movie that I just mute "The Killing Moon" and look at the deliciousness that is Jake Gyllenha... Read more
Ah, the inspiration for livejournalers everywhere. Almost TOO depressing. I still can't believe you haven't committed suicide. "Pornography" was your best, and, alas, most depressing album. Please don... Read more
80's bliss. My favorite song of all time: "There Is a Light That Never Goes Out." Beautiful. Marr's guitar layers topped with the imperfect lilt of Morrissey's voice make this band one tasty 80s liste... Read more
Take this test »