The flip flop Test
Their result for The flip flop Test ...
You scored 52 flip floppiness!
Flip floppiness, yes. It matters. It matters a lot. Some have it. We are the lucky ones. Some day the others may understand the happiness that is wearing non-laced, slip-on footwear that makes such a pleasing plopping sound as you meander along without a care in the world.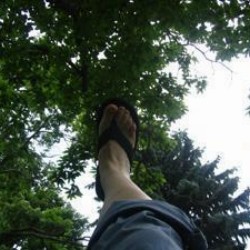 Their Analysis
(Vertical line = Average)
They scored 52% on flip floppiness, higher than 58% of your peers.
All possible test results
Flip floppiness, yes. It matters. It matters a lot. Some have it. We are the lucky ones. Some day the others may understand the happiness that is wearing non-laced, slip-on footwear that makes such a ... Read more
Take this test »