The Dressing Dubya Test
Their result for The Dressing Dubya Test ...
General Thade
9 Duh points and 15 Evil points for Dubya!
You have dressed Dubya as General Thade (from Planet of the Apes 2001)
(Scroll down for picture)
BIOGRAPHY: Born in the Ape city, Derkein, Thade is the direct descendant of Semos. Thade believe that all of the Humans should be wiped out. He believes them to be a plague, a cancer of the planet. He is loyal to his job of the General of the Ape Army and makes sure that it is run correctly. His trustworthy and loyal friend, Attar, assists Thade. In the Ape culture, Thade is almost as powerful as Semos himself. Both the Senate and the Apes of Derkein respect and fear him. Thade represents the pure Ape. He will never rest until every last Human on the planet is completely wiped out.
When Marshall Law is announced, Thade is answerable to no one and will have complete control of the entire army and all of the Legions of the Army. Thade has a team of loyal guards and council of whom he will discuss and confide in.
Thade will never answer to a Human though; he believes them to be the lowest order of primate. Thade remains loyal to his family, and remains close to his father. He wishes to please and honour his family. While he may be evil and have little consideration for Humans and some Apes, he is determined, and wishes to keep the Ape society a pure one, where Humans will not be welcome.
Thade's ultimate goal is to make sure that the Apes rule the planet, and to make sure that all Humans will be very truly sorry that they were ever born Human! He only has one message to all Apes "Rule The Planet!"
Text by www.apesrule.com/

Thank you for taking the Dressing Dubya Test! Artwork compositions were created by Ocean Blue Creative Services. (yes, that's me!)
I also design cool anti-bush tee-shirts and other fun stuff.
Possible Categories include:
- Benito Mussolini
- Marie Antoinette
- Monkey King
- King George III
- General Thade
- King Henry VIII
- Dr. Evil
- Evil Incarnate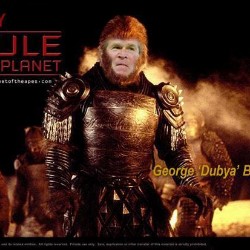 Their Analysis
(Vertical line = Average)
They scored 9% on Duh points, higher than 30% of your peers.

They scored 15% on Evil points, higher than 63% of your peers.
All possible test results
You have dressed Dubya as Benito Mussolini (Scroll down for picture) A bad guy? Not according to you. And just for the record, Benito Mussolini was a true Fascist. Adolf Hitler... Read more
You have dressed Dubya as Benito Mussolini (Scroll down for picture) A bad guy? Well... there have been worse. Take a look at the other guy in the car, for example. And just... Read more
You have dressed Dubya as Evil Incarnate (Scroll down for picture) It doesn't get any worse than this: Pure evil. Funny what a moustache can do, eh? Thank you for taking the ... Read more
What? They have no bread? Let them eat cake! You have dressed Dubya as Marie Antoinette (Scroll down for picture) Marie Antoinette was born November 2, 1755 in Vienna, Austr... Read more
"I'm Dr. Evil, and I'm aspiring to take over the world." You have dressed Dubya as Dr. Evil (Scroll down for picture) "The details of my life are quite inconsequential.... very w... Read more
You have dressed Dubya as General Thade (from Planet of the Apes 2001) (Scroll down for picture) BIOGRAPHY: Born in the Ape city, Derkein, Thade is the direct descendant of Semos.... Read more
You've dressed Dubya as King of the Apes! (Scroll down for picture) Being the Alpha Male in a group of primates isn't such a bad job, is it? Oh, Dubya says thanks for the bananas! P... Read more
Slightly evil or merely crazy? Tough call here... You've dressed Dubya as King George III today! (Scroll down for picture) George III was born in 1738, first son of Frederick, ... Read more
"I'm Dr. Evil, and I'm aspiring to take over the world." (Scroll down for picture) You have dressed Dubya as Dr. Evil Great job! The ever-famous autobiographical narr... Read more
Take this test »