The Dressing Dubya Test
Their result for The Dressing Dubya Test ...
Dr. Evil
7 Duh points and 9 Evil points for Dubya!
"I'm Dr. Evil, and I'm aspiring to take over the world."
You have dressed Dubya as Dr. Evil (Scroll down for picture)
"The details of my life are quite inconsequential.... very well, where do i begin? My father was a relentlessly self-improving boulangerie owner from Belgium with low grade narcolepsy and a penchant for buggery. My mother was a fifteen year old French prostitute named Chloe with webbed feet. My father would womanize, he would drink. He would make outrageous claims like he invented the question mark. Sometimes he would accuse chestnuts of being lazy. The sort of general malaise that only the genius possess and the insane lament. My childhood was typical. Summers in Rangoon, luge lessons. In the spring we'd make meat helmets. When I was insolent I was placed in a burlap bag and beaten with reeds- pretty standard really. At the age of twelve I received my first scribe. At the age of fourteen a Zoroastrian named Vilma ritualistically shaved my testicles. There really is nothing like a shorn scrotum... it's breathtaking- I highly suggest you try it."
Thank you for taking the Dressing Dubya Test! Artwork compositions were created by Ocean Blue Creative Services. (yes, that's me!)
I also design cool anti-bush tee-shirts and other fun stuff.
Possible Categories include:
- Benito Mussolini
- Marie Antoinette
- Monkey King
- King George III
- General Thade
- King Henry VIII
- Dr. Evil
- Evil Incarnate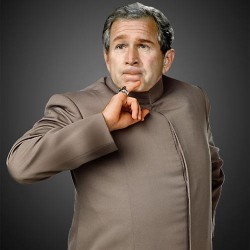 Their Analysis
(Vertical line = Average)
They scored 7% on Duh points, higher than 17% of your peers.

They scored 9% on Evil points, higher than 24% of your peers.
All possible test results
You have dressed Dubya as Benito Mussolini (Scroll down for picture) A bad guy? Not according to you. And just for the record, Benito Mussolini was a true Fascist. Adolf Hitler... Read more
You have dressed Dubya as Benito Mussolini (Scroll down for picture) A bad guy? Well... there have been worse. Take a look at the other guy in the car, for example. And just... Read more
You have dressed Dubya as Evil Incarnate (Scroll down for picture) It doesn't get any worse than this: Pure evil. Funny what a moustache can do, eh? Thank you for taking the ... Read more
What? They have no bread? Let them eat cake! You have dressed Dubya as Marie Antoinette (Scroll down for picture) Marie Antoinette was born November 2, 1755 in Vienna, Austr... Read more
"I'm Dr. Evil, and I'm aspiring to take over the world." You have dressed Dubya as Dr. Evil (Scroll down for picture) "The details of my life are quite inconsequential.... very w... Read more
You have dressed Dubya as General Thade (from Planet of the Apes 2001) (Scroll down for picture) BIOGRAPHY: Born in the Ape city, Derkein, Thade is the direct descendant of Semos.... Read more
You've dressed Dubya as King of the Apes! (Scroll down for picture) Being the Alpha Male in a group of primates isn't such a bad job, is it? Oh, Dubya says thanks for the bananas! P... Read more
Slightly evil or merely crazy? Tough call here... You've dressed Dubya as King George III today! (Scroll down for picture) George III was born in 1738, first son of Frederick, ... Read more
"I'm Dr. Evil, and I'm aspiring to take over the world." (Scroll down for picture) You have dressed Dubya as Dr. Evil Great job! The ever-famous autobiographical narr... Read more
Take this test »