The Saved by the Bell Test
Zach Morris
"Zack, do you really want to be a doctor?"
"Well, Kelly, what I'm looking for is the most amount of money, for the least amount of work."
Charismatic and thoughtful. You are absolutely one of the most cherished around...not because of any one quality you have. You may not be the smartest, the strongest, or the most social...but you're very adaptable. You are the jack of all trades, but even better...you know how to work all the tricks of the trade effectively. Unfortunately, not everyone appreciates your intellect and are often watchful around you. However, when you win the heart of a friend or something more...you gain their respect for a lifetime.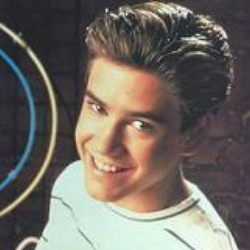 All possible test results
Sociable and shallow. As the most fashionable, you are also always in the "in-crowd", although sometimes you just don't get it. You take precedence over everything else in life: friends, family, ear... Read more
Heartful and vibrant. You're one of a kind. As the center of attention it's easy to become a Lisa Turttle. But you've kept your head above water and your beauty transcends any earthly existance. Y... Read more
Sociable and shallow. As the most fashionable, you are also always in the "in-crowd", although sometimes you just don't get it. You take precedence over everything else in life: friends, family, ear... Read more
Goofy and loveable. You're real smart when it comes to tests...but when it comes to life you're not the brightest tool in the shed. Luckily people know that deep inside you're a really nice person. ... Read more
Goofy and loveable. You're real smart when it comes to tests...but when it comes to life you're not the brightest tool in the shed. Luckily people know that deep inside you're a really nice person. ... Read more
"Zack, do you really want to be a doctor?" "Well, Kelly, what I'm looking for is the most amount of money, for the least amount of work." Charismatic and thoughtful. You are absolutel... Read more
Smart and sassy. You know what you want and you'd do anything to achieve that. You're the brains of the group and people respect you. Sometimes you go overboard with your ambitions which can lead t... Read more
Heartful and vibrant. You're one of a kind. As the center of attention it's easy to become a Lisa Turttle. But you've kept your head above water and your beauty transcends any earthly existance. Y... Read more
Smart and sassy. You know what you want and you'd do anything to achieve that. You're the brains of the group and people respect you. Sometimes you go overboard with your ambitions which can lead t... Read more
Tough and realistic. You may not be the brightest or the most fashion coordinated, but you are what people see. While others plan and formulate actions, you implement them. Often as the brawns of t... Read more
Tough and realistic. You may not be the brightest or the most fashion coordinated, but you are what people see. While others plan and formulate actions, you implement them. Often as the brawns of t... Read more
"Zack, do you really want to be a doctor?" "Well, Kelly, what I'm looking for is the most amount of money, for the least amount of work." Charismatic and thoughtful. You are absolutel... Read more
Take this test »