Which Starfleet Captain Are You?
Captain Archer (Evil Parallel Universe)
You're a real piece of work.  You suffer from any number of mental disorders, including paranoia and extreme narcissism.  Anyone who stands in your way will be tortured or killed.  Ethics?  Peace?  Bah!  Those are for the weak!  You may not have any birthright, but you know in your heart that you were born to be Emperor!  Unfortunately, you're not a very good judge of character.  You tend to hold those who are loyal to you in suspicion while trusting those who are most likely to betray you.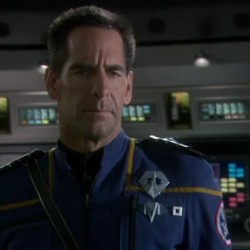 All possible test results
You are a pioneer!  Sure, your technology may be more primitive and your chief engineer may be a country bumpkin, but none of the other captains would be around if not for you.  When some... Read more
You're a real piece of work.  You suffer from any number of mental disorders, including paranoia and extreme narcissism.  Anyone who stands in your way will be tortured or killed.  Ethic... Read more
You've always had a nasty temper on you.  But it has served you well.  You single-handedly fucked-up the Cardassians, the Klingons, the Cardassians again, the Dominion, AND the Breen!  Hell... Read more
On your first starship command, on the first mission, you got lost and wound up on the other side of the galaxy.  Then you hired a group of terrorists and ex-convicts (though you didn't ac... Read more
Is there a Jean Luck Pickerd here?  There sure is!  You are the epitome of courage, ethics, and virtue.  No matter how dire the circumstances, humanity can count on you to keep a cool head ... Read more
You have the heart of a poet and the mind of a soldier.  Having fought a losing war against the Klingon empire for over two decades, your kind spirit and optimistic nature have given way to c... Read more
He's dead, Jim!  Oh yes, you are very familiar with death.  You are an adventurer at heart.  A hopeless romantic who always gets your way, you're the type of person who generally shoots fir... Read more
Your father was killed when you were born.  Though you later blew-up the Romulan asshole who killed him, his death has had a tremendous impact on your life.  You're a brash romantic with a s... Read more
You are a ruthless military madman!  Obsessed with power, you will stop at nothing to obtain it.  You've advanced to the rank of captain by spreading terror throughout the galaxy and murderi... Read more
You seem to share dominant traits with multiple starship captains.  You don't fit any of the standard molds. Read more
Take this test »