The Useless Knowlege 2 Test
Their result for The Useless Knowlege 2 Test ...
Smartass
You scored 94 on UselessKnowlege!
Congratulations! You made it to be a useless knowledge smartass! Go out and impress people! You are a useless knowledge sponge, and unless you are annoyingly self centered you can make for a very enlightening and itellectually satisfying conversation.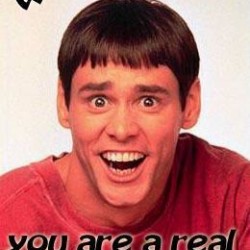 Their Analysis
(Vertical line = Average)
They scored 94% on UselessKnowlege, higher than 100% of your peers.
All possible test results
You scored as Useless Knowledge Dunce. Unfortunately, you did not absorb enough to be able to pretend to be a smartass. But do not despair! The knowldge is usless anyway. Read more
Hurray! Don't you love being average!? Psychologysts are saying, and this is true, that being average is actually attractive. At least when it comes to physical characteristics. And if intelligence IS... Read more
Congratulations! You made it to be a useless knowledge smartass! Go out and impress people! You are a useless knowledge sponge, and unless you are annoyingly self centered you can make for a very enli... Read more
Take this test »