The Could you be a Gunslinger Test
Their result for The Could you be a Gunslinger Test ...
The Good (dead)
You scored 77% vigilanteness, 43% outlawsity and 62% quickdraw skill!
You are the hero. You're tough, cunning, and have the skills necessary to be a gunslinger. You're not bound by a badge, so your justice is final. You don't play games. You're probably taciturn and solitary, but that's what you have to be. Your vendetta requires sacrifice.
Unfortunately, your story is a tragic one. That showdown was to be your last. Your nemesis ended up winning, and knowing him, you were probably left on the floor, bleeding and dying slowly. Rest in peace, however, because the bad guy always gets what's coming to him.
Your gunslinger character would most likely be the "hero who got this far and fell short." Lonelier than the surviving hero, but also more badass, you just have a deathwish. Everyone loves tragic characters.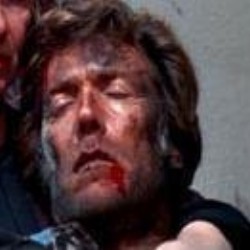 Their Analysis
(Vertical line = Average)
They scored 77% on vigilanteness, higher than 77% of your peers.

They scored 43% on outlawsity, higher than 65% of your peers.

They scored 62% on quickdraw skill, higher than 43% of your peers.
All possible test results
You're lucky you're not actually a gunfighter. You'd be awful at it. Maybe you just make some terrible mistakes, but probably, you just can't go through with any of the more serious stuff. ... Read more
You're lucky you're not actually a gunfighter. You'd be awful at it. Maybe you just make some terrible mistakes, but probably, you just can't go through with any of the more serious stuff. ... Read more
It's official: you suck. You're the lousiest outlaw ever. You've got an evil streak, that's for sure, but you don't have the skills or know-how required to succeed at gunslinging. You could... Read more
It's official: you suck. You're the lousiest outlaw ever. You've got an evil streak, that's for sure, but you don't have the skills or know-how required to succeed at gunslinging. It could ... Read more
You're tough, you're quick, you're skilled, but you have self control. I like you. If you had any gunslinging career, you'd be a lawman. Sheriff, marshall, deputy, whatever, you'd maintain the peac... Read more
You're tough, you're quick, you're skilled, but you have self control. I like you. If you had any gunslinging career, you'd be a lawman. Sheriff, marshall, deputy, whatever, you'd maintain the peac... Read more
You're not necessarily physically ugly, but you represent the somewhat ugly side of humanity. You're definitely a decent gunslinger (and a criminal one, at that), but you've got a conscience. You l... Read more
You're not necessarily physically ugly, but you represent the somewhat ugly side of humanity. You're definitely a decent gunslinger (and a criminal one, at that), but you've got a conscience. You l... Read more
You are the hero. You're tough, cunning, and have the skills necessary to be a gunslinger. You're not bound by a badge, so your justice is final. You don't play games. You're probably taciturn and ... Read more
You are the hero. You're tough, cunning, and have the skills necessary to be a gunslinger. You're not bound by a badge, so your justice is final. You don't play games. You're probably taciturn and ... Read more
Well, you're the bad guy. An excellent gunslinger, without any pesky "morals" getting in the way of your quest. You're probably vile, disgusting and cruel, but at the same time you might be suave, ... Read more
Well, you're the bad guy. An excellent gunslinger, without any pesky "morals" getting in the way of your quest. You're probably vile, disgusting and cruel, but at the same time you might be suave, ... Read more
Take this test »
Recent Results
Tests others are taking