The Buffy Test
Their result for The Buffy Test ...
wolfman/witch
Here you are- 89%!
You love Buffy- You don't deny it, you revel in it. There should be more people like you. Now go back to listening to the soundtrack from "Once more, with feeling". But because you didn't get 100% you only get a half smile from Buffy.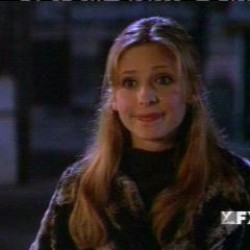 Their Analysis
(Vertical line = Average)
They scored 89% on orbs, higher than 23% of your peers.
All possible test results
You probably have never seen this show, or have a friend who watches it and you mock them. Fool. Now you failed the Buffy test and you are humiliated! Read more
You are a little confused about Buffy, just like she is in that pic. But you have probably seen the show a few times, when it first aired, and that's pretty good of you. Unfortunately, there are man... Read more
Nicely done. You obviously like the show, and probably have seen more than half of the episodes. Buffy and Giles aren't completely impressed though. Read more
You love Buffy- You don't deny it, you revel in it. There should be more people like you. Now go back to listening to the soundtrack from "Once more, with feeling". But because you didn't get 100% ... Read more
perfect (or nearly perfect) score! You probably watched it when it was on originally, and now watch it on DVD or have the Watchers Guide or graphic novels or the like. Buffy is pleased. Read more
Take this test »