The Ethical Compass Test
Their result for The Ethical Compass Test ...
Moderate Absolutist
You scored 46% Absolutism, 23% Consequential, and 36% Utilitarian!
You are a Moderate Absolutist and you are confident in your Moral Compass! You tend to hold that there are absolute standards against which moral questions can be judged, and that certain actions are right or wrong, regardless of the context of the act. You are inclined to believe that morals are inherent in the laws of nature or God. You would be the first to argue that issues such as slavery, war, the death penalty, evolution, and abortion are inarguably immoral regardless of the beliefs and goals of a culture that engages in these practices. Consider some other options and educate yourself outside of religious beliefs.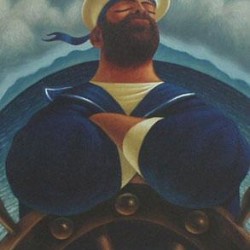 Their Analysis
(Vertical line = Average)
They scored 46% on Absolutism, higher than 86% of your peers.

They scored 23% on Consequential, higher than 9% of your peers.

They scored 36% on Utilitarian, higher than 58% of your peers.
All possible test results
A skipper isn't just someone who stands on a boat! In your case, you either skipped too many questions or you don't have any clue where your beliefs fall, and you should probably consider educating yo... Read more
You are a Moderate Utilitarian! You are someone who believes that the value of a thing depends on its utility (or usefulness). You believe that every action can be maximized to bring about the best co... Read more
You are a Pure Utilitarian! You are someone who believes that the value of a thing depends on its utility (or usefulness). You believe that every action can be maximized to bring about the best conseq... Read more
You are a Moderate Consequentialist and you are confident in your Moral Compass! You tend to believe that the effects of a particular action might have a virtually unlimited chain of other consequence... Read more
You are balanced between Consequentialism and Utilitarianism, where you tend to believe that the effects of a particular action might have a virtually unlimited chain of other consequences, but at the... Read more
For the most part, you are a Utilitarian but you hold Consequentialist beliefs also. You tend to believe that the effects of a particular action might have a virtually unlimited chain of other consequ... Read more
You are a Pure Consequentialist and you are confident in your Moral Compass, through and through! You tend to believe that the effects of a particular action might have a virtually unlimited chain of ... Read more
You are a Major Consequentialist and a Moderate Utilitarian, but you are confident in your Moral Compass! You tend to believe that the effects of a particular action might have a virtually unlimited c... Read more
You are a Major Consequentialist and a Major Utilitarian, but you are confident in your Moral Compass! You tend to believe that the effects of a particular action might have a virtually unlimited chai... Read more
You are a Moderate Absolutist and you are confident in your Moral Compass! You tend to hold that there are absolute standards against which moral questions can be judged, and that certain actions are ... Read more
You are a Minor Absolutist and a Minor Utilitarian, but you are fairly confused in your Moral Compass! You typically hold that there are absolute standards against which moral questions can be judged,... Read more
You are a Minor Absolutist and a Major Utilitarian, but you are fairly confused in your Moral Compass! You typically hold that there are absolute standards against which moral questions can be judged,... Read more
You are a Minor Absolutist and a Minor Consequentialist, but you are fairly confused in your Moral Compass! You typically hold that there are absolute standards against which moral questions can be ju... Read more
You, my friend, are a Confused Clicker! You don't really know what to think and you have no clue how to stick with a theme. You probably need more of an education on either your computer or on this wo... Read more
You, my friend, are a Confused Clicker! You don't really know what to think and you have no clue how to stick with a theme. You probably need more of an education on either your computer or on this wo... Read more
You are a Minor Absolutist and a Major Consequentialist, but you are fairly confused in your Moral Compass! You typically hold that there are absolute standards against which moral questions can be ju... Read more
You, my friend, are a Confused Clicker! You don't really know what to think and you have no clue how to stick with a theme. You probably need more of an education on either your computer or on this wo... Read more
I'm not sure how you managed this result, but clearly it was possible since you got it! Congradulations on achieving what I thought was impossible! You have me thinking.. WTF!? I don't even know how t... Read more
You are a Pure Absolutist and you are confident in your Moral Compass! You hold that there are absolute standards against which moral questions can be judged, and that certain actions are right or wro... Read more
You are a Major Absolutist and a Minor Utilitarian, but you are fairly confused in your Moral Compass! You typically hold that there are absolute standards against which moral questions can be judged,... Read more
You are a Major Absolutist and a Major Utilitarian, but you are fairly confident in your Moral Compass! You typically hold that there are absolute standards against which moral questions can be judged... Read more
You are a Major Absolutist and a Minor Consequentialist, but you are fairly confident in your Moral Compass! You typically hold that there are absolute standards against which moral questions can be j... Read more
You are a Major Absolutist, a Minor Consequentialist, and a Minor Utilitarian... so you are fairly confused in your Moral Compass! You typically hold that there are absolute standards against which mo... Read more
I'm not sure how you managed this result, but clearly it was possible since you got it! Congradulations on achieving what I thought was impossible! You have me thinking.. WTF!? I don't even know how t... Read more
You are a Major Absolutist and a Major Consequentialist, but you are fairly confused in your Moral Compass! You typically hold that there are absolute standards against which moral questions can be ju... Read more
I'm not sure how you managed this result, but clearly it was possible since you got it! Congradulations on achieving what I thought was impossible! You have me thinking.. WTF!? I don't even know how t... Read more
I'm not sure how you managed this result, but clearly it was possible since you got it! Congradulations on achieving what I thought was impossible! You have me thinking.. WTF!? I don't even know how t... Read more
Take this test »
Recent Results
Tests others are taking