The Erotic Slave wannabe Test
Their result for The Erotic Slave wannabe Test ...
Household Slave
260 Submissive
You are very organised and household management is important to you. You are comfortable when you have visitors to entertain as it gives you an ideal opportunity to show off your considerable domestic prowess. You dont need an awful lot of acknowledgement for your efforts and are happy working behind the scenes. You have a tendency to veer towards perfectionism, and want to see any errors corrected at once and at any cost. When you are punished you make it worse for yourself by berating yourself further for letting yourself down. You tend to have unrealistically high standards and find it hard to deal with those who judge you, particularly if you feel like they dont have the same standards as you. You value fairness and balance above all else and so you find corporal punishment humilliating. You would work well as an EMPLOYEE slave. You work hard and perhaps would find it difficult to switch off from being a uber efficient household staff member to a mere slave for your dominant after hours. There is also the realistic consideration that if one angle started to go awry, you would lose both proffessional and personal occupations when they are in the same location. You would do well as a HOUSEKEEPER or BUTLER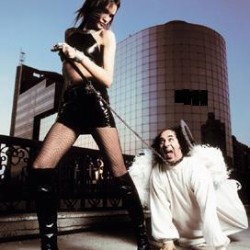 Their Analysis
(Vertical line = Average)
They scored 260% on Submissive, higher than 16% of your peers.
All possible test results
You have an attractive personality and are a very sociable person. You have good communication skills and enjoy meeting and spending time with new people. You are also very discreet, which is a positi... Read more
You are very organised and household management is important to you. You are comfortable when you have visitors to entertain as it gives you an ideal opportunity to show off your considerable domestic... Read more
You value intimacy with your potential dominant above all other things. Your looks are incredibly important to you and you can be considered vain although you also like to help others look as good as ... Read more
You pride yourself on your sexual technique, it would be your main focus for the whole relationship. You will most likely perform the occasional domestic chore if pushed but only if it is rewarded wit... Read more
Take this test »
Recent Results
anymistress4me43 / m / Straight

yourami20 / f / Straight

candycanee22 / f / Bisexual
Tests others are taking