The Do You Scare People Test
Their result for The Do You Scare People Test ...
You are only xxx% frightening!
Thanks for playing! If you scored over 85% on this test you can probably rest assured that you are freakin' some people out. There was no real question that would put you over the top so the cumulative impact of all your little quirks is setting folks off. A very very low score (under 30) is also very hard to achieve. Hope you had fun. This was my first test and I'd love to make it mo'bettah and create a few more.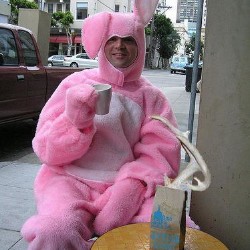 Their Analysis
(Vertical line = Average)
They scored 57% on Scariness, higher than 99% of your peers.
All possible test results
Thanks for playing! If you scored over 85% on this test you can probably rest assured that you are freakin' some people out. There was no real question that would put you over the top so the cumul... Read more
Take this test »