The Final Fantasy VII Test
Their result for The Final Fantasy VII Test ...
Vincent Valentine
You scored 75% knowledge!
Ahhh yes the Batman of the FF world. Suave, mysterious and utterly unfazed. Let's see cape *check* huge arsenol of fire arms *check* and can transform into a Feral Hell Beast, Frankenstein, Jason and a Winged Demon *check* but did you really need to try and get it on with Sephiroth's mom? Congratulations, along with Samuel L Jackson you're a "Bad Mutherfucka"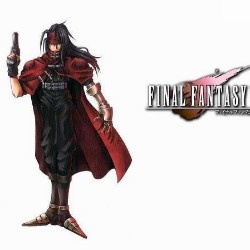 Their Analysis
(Vertical line = Average)
They scored 75% on knowledge, higher than 60% of your peers.
All possible test results
The ultimate bench warmer. While everyone was out fighting to save the planet. You were guarding the ship or gathering supplies, no wonder you don't remember anything about the game. Read more
You were a cool character enough but no one really cared until you died. If we had to pick a chick to hang with, hands down it would've been Tifa. Good job saving the planet though. Read more
If I could've smacked any one charcter in the mouth it would have been you. We already had a loner in the group in Cloud and now we've got another one with a big mouth and foul attitude. On the otherh... Read more
Cursed to be desired by fan boys due to your unruely proportions. Alot of people didnt recognize(or care) how much ass you could actually kick. Your breaks weren't bad they just lacked...pazazz. Forev... Read more
Yeah you stole my freakin' materia and were a bit of a pain in the ass. However being a 14 year old ninja with a giant shriken makes a statement. You basically ran Wutai and had possibly the best limi... Read more
What can you say about a huge, flamming tailed, mystic cat warrior that was smarter than Steven Hawking. Yeah I wouldn't fuck with you either. I know you were basically a pacifist but it didn't help y... Read more
Gruff, surley, anti social...the stereo typical black male lol, strange how the japanese felt a need to *weld* a gun on *your* hand hmmm. You did everything but call Cloud a cracker. However your brea... Read more
Ahhh yes the Batman of the FF world. Suave, mysterious and utterly unfazed. Let's see cape *check* huge arsenol of fire arms *check* and can transform into a Feral Hell Beast, Frankenstein, Jason and ... Read more
The poster boy, the loner, the guy who made over sized weapons fashionable. If this was high school you'd be valedictorian, captain of the football team and the disenfranchised tortured youth all roll... Read more
The epitome of evil and cool, I mean you killed a dragon with your bare hands(rock on). You know you've made something of yourself when you get your own theme music and can summon ancient weapons of d... Read more
Take this test »
Recent Results
Tests others are taking