The ER Knowledge Test
Their result for The ER Knowledge Test ...
Doctor
You scored 91 ER Knowledge!
Wow. I'm impressed! In the ER, you're Dr. Ross. Sure, he kind of turned into a jerk, but a caring jerk who knew a lot. And you know a lot, about ER. I'm proud of you. Try not to be too much like Ross, and don't go around diagnosing people. Just because you know a lot about ER, doesn't mean you know anything about medicine.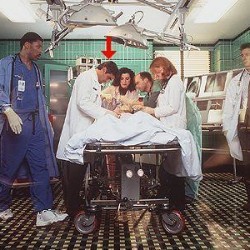 Their Analysis
(Vertical line = Average)
They scored 91% on ER Knowledge, higher than 68% of your peers.
All possible test results
See where the arrow is? That's you. No, not the nurse, the patient. Wow. If your life depended on ER knowledge, you'd be dead. Go watch some more ER and then try again. Read more
The arrow is pointing to Carter, which could mean you are a great doctor and not half-bad looking, but it doesn't. See how Carter looks all faded? Thats because your score is kind of faded. You aren't... Read more
Well, you didn't do horrible. Congratulations. You're like Benton, only see through. You didn't do too bad though. Pay a little more attention to details and you could be a great fan. Read more
Wow. I'm impressed! In the ER, you're Dr. Ross. Sure, he kind of turned into a jerk, but a caring jerk who knew a lot. And you know a lot, about ER. I'm proud of you. Try not to be too much like Ross,... Read more
Take this test »