The Why am I here Quiz.
Their result for The Why am I here Quiz. ...
The Jerk
You scored 4% Confidence. That was your highest characteristic.
Make no bones about it, "The Jerk" is universal to gender. That's non negotiable. Doesn't matter to you right? Besides, this online dating gig is like a workout. Just strengthening those already strong vibes. Why are you here? I'm sorry, we should be asking you that.  Wait, why am I here making this answer? If I don't act quickly, you'll steal everyone that's single. "Smoking Hot" is also universal to gender, when it comes to who is describing you. That being said, you'll have plenty of options for a mate. It won't last. I suggest that you expand those emotional horizons. Finally, all it takes is for you to open up to the wrong partner for vulnerability to set in. Get more classy (if that's possible), positive, and humor people with learning their interests...for once.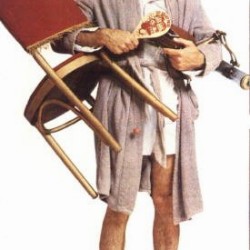 Their Analysis
(Vertical line = Average)
They scored 2% on Attitude, higher than 29% of your peers.

They scored 4% on Confidence, higher than 83% of your peers.

They scored 2% on Emotions, higher than 71% of your peers.
All possible test results
You should be having long, and I mean long, relationships. That being said, the same goes for length of time being single. Either you are too picky or the confidence is too low when meeting people ... Read more
Doubt you will stay single for long. However, that status happens too frequently with you. Your outlook on romance (and probably Life in general) fuels your will. Can't have it unless you want... Read more
You must be here for the tests or using this website to store photos. If that perfect match is in your vector, there is no stopping you.  Regardless, every relationship is like the playoffs.  Mis... Read more
Attitude is everything. You don't need this quiz, it's obvious why you're here. Keeping those options open.  Send more messages, read more profiles, and get yourself out there. Failure may de... Read more
Make no bones about it, "The Jerk" is universal to gender. That's non negotiable. Doesn't matter to you right? Besides, this online dating gig is like a workout. Just strengthening those alrea... Read more
Not everything is black & white. Gray must be your color.  You look to be 50\50 in most situations. We like those o... Read more
Take this test »