Which Type of Terrorist Are You Test
Their result for Which Type of Terrorist Are You Test ...
The Activist Terrorist
You like the action!
The Activist Terrorist is socially and politically aware, and seeks to make a difference.  You are idealistic and full of ideas.  Your involvement, dedication, and passion have evolved in activism.  You like taking it to the streets.  You believe in grass roots organization.  You're good at motivating people and you are articulate.  You choose to educate people whenever possible and would rather use peaceful means to accomplish your goal.  But you're not afraid of getting a few elbows to the jaw and can hold your own in a scuffle.  You have done numerous protests and marches.  You anticipate at some point you will be pepper-sprayed, spend a night in jail, and have a record for destroying property.  Your inner fire and driven nature keeps your cause close to your heart.  Your friends and supporters have your back when you decide to take action .  There is an internal line inside you that you cross sometimes, but your pragmatism keeps you in check.  Some people call you militant and find your agenda tiresome.  You could never do real harm to anyone and you believe that's what separates you from terrorists.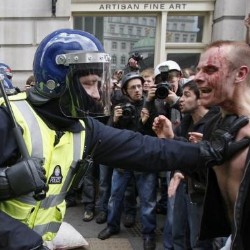 Their Analysis
(Vertical line = Average)
They scored 27% on Terrorism, higher than 13% of your peers.
All possible test results
The Novice Terrorist is a well-meaning, average person who like... Read more
The Revolutionary Terrorist is single-minded in their purpose.  You take incredible risks.  There is a tenacity which pulls you forward and nothing short of yo... Read more
The Activist Terrorist is socially and politically aware, and seeks to make a difference.  You are idealistic and full of ideas.  Your involvement, dedicati... Read more
The Dictator Terrorist is dangerous.  What initally starts as activism grows into a more ruthless obsession.  While your purpose for action is motivated by creating a radical change, you are als... Read more
Take this test »