The Spider-Man Personality Test
Their result for The Spider-Man Personality Test ...
Peter Parker
You scored 14 capabilityand 22 nobility!
Hey, you're Peter Parker, the man behind the mask! Even before you had superpowers, you knew the difference between good and evil in the world, and even though you might get beaten up from time to time, you never let it get you down. As Peter, you may not be able to smack down the baddies as directly as your alter-ego would, but that doesn't mean you're helpless; give you a few hours and a $20 chem set, and you'll come up with something that'll turn the tide of the battle. Oh, and you're married to an international supermodel. Way to go.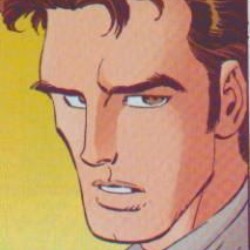 Their Analysis
(Vertical line = Average)
They scored 14% on capability, higher than 46% of your peers.

They scored 22% on nobility, higher than 60% of your peers.
All possible test results
Ugh, you're Flash Thompson! Essentially, you're the heel. The bully, the guy in school who's muscles are as hard as bricks and whose brain is equally as dense. You enjoy picking on those smaller or sm... Read more
Deep down you're a sweet, kind person, and possibly like to bake cookies and wheat cakes. But others better watch out if they rub you the wrong way, because your temper can lead to all sorts of nasty ... Read more
Wise and responsible, you're Peter Parker's late Uncle Ben. You have an excellent sense of right and wrong, and will always try to walk the good path in life, no matter the consequences. You know that... Read more
Arrrgh! You're JJJ, Peter Parker's perpetually perturbed proprietor (whew!). You're a somewhat powerful person in this town, and you're not afraid to use your influence to your advantage, whether it's... Read more
Hey, you're Peter Parker, the man behind the mask! Even before you had superpowers, you knew the difference between good and evil in the world, and even though you might get beaten up from time to tim... Read more
Noble, kind, and very sexy, you're goal-oriented and possibly a supermodel. You know that there's not much you personally can do to right the wrongs of the world, but hey, you're gonna give it your be... Read more
You are one seriously disturbed individual. You are Norman Osborn, a.k.a. the Green Goblin, Spider-Man's greatest foe. A modern-day Machiavelli with a sadistic twist, you'll kill anyone that gets in y... Read more
You're Eddie Brock, a.k.a. Venom, the reluctant hero/villain with a personal vendetta against both Peter Parker and Spider-Man. You certainly can hold a grudge, but also know when enough's enough and ... Read more
You're frickin' Spider-Man! You fight the good fight 24/7, because you know you have the power to make the world a better place. Your strength and honor has enabled you to fight everyone from faceless... Read more
Take this test »
Recent Results

Alpenglühen33 / m / Straight

bernie8833 / m / Straight
Tests others are taking