The Ultimate Computer Geek Test
Their result for The Ultimate Computer Geek Test ...
Geek Professional
Congratulations! You scored ###!
Well you're definitely a geek, you speak code, you probably live on noodles and caffeine and social activities probably aren't high on your agenda. However wouldn't you feel safer around your geeky friends if you knew a little more? Learn from your mistakes, come back, and do the test again.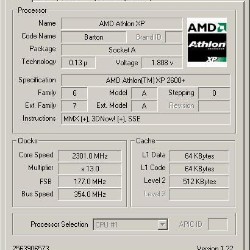 Their Analysis
(Vertical line = Average)
They scored 52% on geekpoints, higher than 50% of your peers.
All possible test results
Well you're not at all very geeky. I suggest you stick to using your parents' macintosh for all your word processing and e-mails like a good little noob. ;) Read more
Well you've got a basic understanding of how computers work but I wouldn't say you're a fully fledged geek. You need get some Wrox programming books and play with linux a little. That should help you ... Read more
Well you're definitely a geek, you speak code, you probably live on noodles and caffeine and social activities probably aren't high on your agenda. However wouldn't you feel safer around your geeky fr... Read more
Yep you're the god of all geeks... if it weren't for your geekish charms you'd be a nerd, and believe me there's not much that seperates you from that. If you got this high a score and you're female, ... Read more
Take this test »