The Spooktacular Music Test
Their result for The Spooktacular Music Test ...
You are Sour Gummi Worms!
You are Spooktacularly unimpressive at doing The Monster Mash: 2 Right and 0 Wrong out of 18 questions.
You probably weren't looking for a negative score on this quiz, but you almost got one.  Sorry about that!
David Bowie wrote "Scary Monsters (and Super Creeps)"
Stevie Wonder wrote "Skeletons"
DJ Jazzy Jeff and the Fresh Prince wrote "Nightmare on My Street"
Credence Clearwater Revival wrote "Bad Moon Rising"
Corey Hart wrote "Sunglasses at Night"
Concrete Blonde wrote "Bloodletting (The Vampire Song)
Freddie Mercury (of Queen) sung "Who Wants To Live Forever?"
Blue Öyster Cult wrote "Don't Fear The Reaper"
Midnight Oil wrote "The Dead Heart" (about Aboriginal Rights in Australia)
Franz Schubert wrote the music to "Death and the Maiden", a leid with lyrics derived from a poem written by Matthias Claudius
Indigo Girls wrote "Ghost"
"Bela Lugosi's Dead" is the song by Bauhaus.
INXS wrote "Devil Inside"
Rolling Stones wrote "Sympathy for the Devil"
AC/DC wrote "Highway To Hell"
Curtis Mayfield wrote "If There's A Hell Below, We're All Going To Go"
The Charlie Daniels Band wrote "The Devil Goes Down To Georgia", and Charlie Daniels played on the sequel by Mark O'Connor.
Pat Benatar wrote "Hell Is For Children"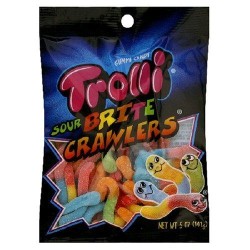 Their Analysis
(Vertical line = Average)
They scored 8% on Spooktacularity, higher than 4% of your peers.

They scored 2% on Right, higher than 1% of your peers.

They scored 0% on Wrong, higher than 4% of your peers.
All possible test results
This is the highest possible score, which is very, very sweet!  Please feel free to contact me on OK Cupid if you want to turn me on to some music (or if you think we might make beautiful ... Read more
This is the second-highest score, with only Nerds Candy above it.  Congratulations on having a life while still knowing a bunch about Halloween Music.   David... Read more
This is the third-highest score, but it's probably the healthiest: you know a fair amount about Halloween Music, but you definitely have a life.  Congratulations!  there ... Read more
You've got noticable gaps in your musical knowledge like the small pockets in a good cake, but they're not big enough to prevent you from enjoying halloween music.   u... Read more
This is not a very good score.  Your musical knowledge isn't *quite*  as empty as the calories in Candy Corn because you got at least 3 answers right, but you might want to listen to mor... Read more
You probably weren't looking for a negative score on this quiz, but you almost got one.  Sorry about that!   David Bowie wrote "Scary... Read more
You didn't really think that I'd give you a special category, did you?  Well, I did.  Now go back and retake the test as though you meant it!   There will be an an... Read more
You have NEGATIVE Spooktacularity, which means that you guessed wrong more than twice as often as you answered the question correctly.  Your Halloween Musical Trivia prowess never showed u... Read more
Take this test »