The moo Test
Their result for The moo Test ...
One of the Herd
Moo! You scored ###!
You are a cow. You exemplify all that is good in mammalia, including horniness (you possess a set of very good pointies), cockiness (you like chickens) and beefiness. Cowness transcends gender. Moo.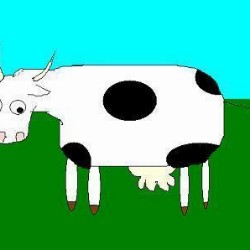 Their Analysis
(Vertical line = Average)
They scored 98% on mooness, higher than 100% of your peers.
All possible test results
You hate cows and wish everyone would eat more of them. All the bad press about cows originated from you and yours. You are the epitome of evil. You're probably a clown who sells hamburgers. Read more
You are prejudiced against bovines. While you dislike sheep and goats as well, your disdain for cows is particularly acrimonious. But why? Cows are people too! Can't you see that?? Read more
You loll from fences, swinging your legs placidly with a vacant expression on your face. You are probably a sheep: woolly, undecided, vacuous. Sheep get eaten too. Read more
You are a good friend to cows. In fact, you would sacrifice your own meat for the dinner table to spare a cow's life. You are probably a chicken in the employ of a certain fat, old ex-army officer. ... Read more
You are a cow. You exemplify all that is good in mammalia, including horniness (you possess a set of very good pointies), cockiness (you like chickens) and beefiness. Cowness transcends gender.... Read more
Take this test »