The Cosby Test
Their result for The Cosby Test ...
The Golden Sweater
And the Sweater is in!! You scored ###%
You are a COSBY-LOVING GOD!!! You know them Cosby sweaters like the back of your hand. In fact, you own at least 3! Ebay is a beautiful thing. Walk with your head high, my friend!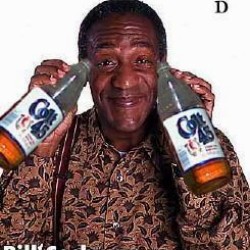 Their Analysis
(Vertical line = Average)
They scored 70% on sweaterscore, higher than 27% of your peers.
All possible test results
Why did you even take this test!? Do you even know who Bill Cosby is, you spawn of satan?? Did you really think they had a cat! I mean c'mon! Who would want a cat when you have so many awesome sweater... Read more
You know good comedy when you see it!! Although the Cosby's may not be your favorite family, you've sat through the Nick @ Nite shows, and are down with your bad self. Dust off that sweater and turn ... Read more
You are a COSBY-LOVING GOD!!! You know them Cosby sweaters like the back of your hand. In fact, you own at least 3! Ebay is a beautiful thing. Walk with your head high, my friend! Read more
Take this test »