If you were water... quiz
Their result for If you were water... quiz ...
The Ocean
Beside the sun warmed sand, a mirror cast of flowing sky, floats like liquid land, in salty torrents mermaids cried
You are the ocean.  You think big and feel a lot.  Without any certain plans, you still expect to accomplish great things, and well you should because you cover a lot of ground.  There are many sides to you, and they come and go like the tides.  Sometimes you might feel like you are many different people, or as if your own personality is contradictory.  At times you may need to watch out for being arrogant, or letting your feelings get the better of you.  Keep dreaming, but don't forget to apply your dreams to the real world.
You scored: 73% Energy, 86% Complexity, 37% Direction and 72% Size.
Here's what the variables mean:
High Energy:  Energetic, passionate, hyper. 
Low Energy: Calm, cold, collected.
High Complexity: complicated personality, interesting, original maybe a bit eccentric. 
Low Complexity: Simple, straightforward, traditional, maybe a bit boring
High Direction: ordered, organized, everything planned ou
Low Direction: chaotic, unplanned, let fate or whims decide.
High Size: Big ideas, big physical size, maybe a bit arrogant. 
Low Size: Smaller ideas or plans, humble, smaller in physical size.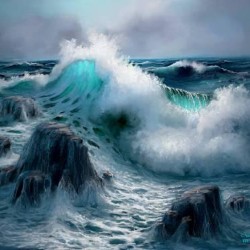 Their Analysis
(Vertical line = Average)
They scored 73% on Energy, higher than 90% of your peers.

They scored 86% on Complexity, higher than 95% of your peers.

They scored 37% on Direction, higher than 26% of your peers.

They scored 72% on Size, higher than 93% of your peers.
All possible test results
Umm, sorry, you seem to be kind of puddle-like.  Your not a very original person, a muddied reflection of the world around you, sticking to what you know.  And what you know is lying around while... Read more
You are a lake: tranquil and content.  You're happy with the way you are, and could cheerfully stay the same for the rest of your life.  Not overly emotional it is possible to get you stirred up,... Read more
You killed the titanic!  Just kidding, but if you had you probably wouldn't have been overly sentimental about it.  Not that you're viscious, you just don't really care about a lot of things.  Y... Read more
You're a raindrop, how sweet!  Have you ever felt like you're falling through life, out of control?  At the moment you don't seem to have a lot of direction, you aren't sure what to do so you jus... Read more
You are the ocean.  You think big and feel a lot.  Without any certain plans, you still expect to accomplish great things, and well you should because you cover a lot of ground.  There are many ... Read more
You are a beautiful person.  It would be hard to find an ugly waterfall, even if you were looking.  You are energetic and passionate.  Emotion rules over cold logic.  Never content to be still ... Read more
You are a river!  You're in the middle, especially in terms of direction.  That's good news for you, it means you're neither chaotic and eccentric or boring and unchanging.  You have pretty good... Read more
Swamp, marsh, bog, fen, you probably don't mind all that much what people call you, because you're kind of weird.  But that's great, you're interesting, you're unique.  Originality is probably mo... Read more
I find you difficult to classfy... you don't fit easilty into a category, so I have named you water vapour for your elusiveness.  You are a cloud, floating free and im... Read more
Take this test »
Recent Results
Tests others are taking