The What kind of monster? Test
Their result for The What kind of monster? Test ...
Goblin
Congratulations! You scored ###!
Deviously cowardly, your only chance for survival lies in the vast numbers of your kin. You like kill things that are smaller than you, but when faced with a greater foe, to tend to revert to "Sniveling weakling" mode; as your primary goal is survival. While you may be a force to be reconed with when you gather in hundreds or thousands, more likely it is your lot to be either enslaved or eaten by those who scored higher on this test.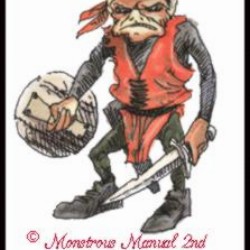 Their Analysis
(Vertical line = Average)
They scored 9% on monstrosity, higher than 70% of your peers.
All possible test results
Deviously cowardly, your only chance for survival lies in the vast numbers of your kin. You like kill things that are smaller than you, but when faced with a greater foe, to tend to revert to "Snivel... Read more
Grrr! You're an Orc! You like to hit things, and eat things. Strong, and cunning, but not interested in anything long term, you live to smash, crush, bite and slaughter your way to glory, or death ... Read more
You're big, you're smart, and you're mean. You crush the lesser races beneath your bootheel, and when they band together to come at you in force, you're ready with tricks and traps aplenty; you're n... Read more
You are the supreme power in the land, and all who come before cannot but fall to their knees at your awesome evil majesty. Your size and natural weapons bolstered by your magical abilities and deadl... Read more
Take this test »