The the Geek test Test
Their result for The the Geek test Test ...
Geek
Congratulations! You scored ###!
Congradulations, You are the run of the mill geek, not to be confused with a nerd, and a graduate of the college of insignificant knowledge. Be wary, jocks may often envy and torment you, but you know how to stick it to them with sheer brain power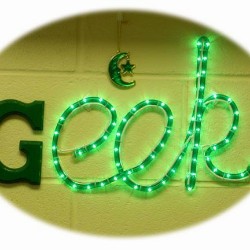 Their Analysis
(Vertical line = Average)
They scored 3% on Geeky points, higher than 42% of your peers.
All possible test results
chances are you play alot of sports/video games/ect or spend way to much time at the spa/mall/chasing tail. You are as far from a Geek as you can possibly get Read more
you may know a thing or two about science, but nothing you couldn't pick up by paying attention to the instructors in highschool Read more
You probably paid attention in class, but you haven't put any extra time into your pursuit of geekyness Read more
Congradulations, You are the run of the mill geek, not to be confused with a nerd, and a graduate of the college of insignificant knowledge. Be wary, jocks may often envy and torment you, but you know... Read more
You are SO geeky you are a danger to anything within a 1 mile radius. 3rd world countries would love to get their hands on you. You have most likely caused a blackout or two just from the power you us... Read more
Take this test »