The strong bad emails Test
Their result for The strong bad emails Test ...
Strong Bad
Congratulations! You scored ###!
you ARE the master, you are strong bad himself! though you may have forgotten some of your older emails, you have a good recollection of a good portion of them. you definately know your favorite emails....(we're blasting off into the mooooon!!!) keep showing up mondays, and you'll be right on track.... wassup you are awesome..(this I know)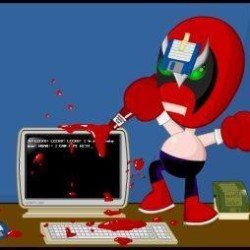 Their Analysis
(Vertical line = Average)
They scored 99% on emailpoints, higher than 100% of your peers.
All possible test results
OH man you are so stupid! you're computer shut down, exploded, gave you crap for brains! I cant believe how stupid you are. i dont know what you did, but you messed it all up real bad. Read more
You sneak in a lot to check out what's going on, and sometimes to annoy strong bad, but on the whole you're a bit more clueless. dont worry, you're still doing well. just get your hands on some of ... Read more
You know quite a lot. You know a lot of the emails. you have shown up in many, many of the modern ones, from the compy 386, but some of the earlier ones especially from tandy 400 you dont know as man... Read more
you ARE the master, you are strong bad himself! though you may have forgotten some of your older emails, you have a good recollection of a good portion of them. you definately know your favorite em... Read more
Take this test »