The Definitive Donnie Darko Test
Their result for The Definitive Donnie Darko Test ...
Breasts!
On the lifeline - You scored 64 LifeLine points!
Could I distract you for just a brief second? Yeah, I used to masterbate while thinking about her [Drew Barrymore] like ALL THE TIME. Oh so hawt! Just like Donnie, if you could pull your eyes away from her breasts and simply pay attention - you too could do better on this test! Go and watch the movie and stop masterb.. er um yeah just watch the movie [again]! You did quite well for the average person. I implore you to investigate this link http://metaphilm.com/philm.php?id=10_0_2_0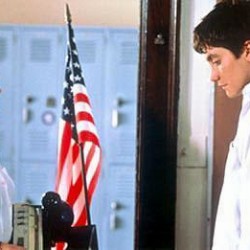 Their Analysis
(Vertical line = Average)
They scored 64% on The Lifeline, higher than 67% of your peers.
All possible test results
You have succumbed to the path of fear! See the hidden message in the picture? Yeah, I thought so. Watch the movie about two times and then try again in the morning. Don't worry, it's just a point... Read more
Technically you did so awful on this test that I figured that for a consolation prize I'd give you a hidden message from the movie... Look at Lifeline Exercise #2 Look at the picture and see a hidde... Read more
You don't know what's going on in the movie, do you? I didn't and neither did Samantha. No matter; grow up, watch the movie and maybe this time you'll understand that perhaps feces are not baby mice... Read more
Could I distract you for just a brief second? Yeah, I used to masterbate while thinking about her [Drew Barrymore] like ALL THE TIME. Oh so hawt! Just like Donnie, if you could pull your eyes away ... Read more
You are watching wait... no you're the one in the middle sleeping! Did you not even pay attention to what was going on in the movie? Damnit! Wake up Donnie. Alright - just go and um read this, cat... Read more
You rawk! You could only get this score if you got THE '88' (84 works in rare circumstances) - the same 88mph for the delorean as in the movie 'Back To The Future' to go back in time. In fact - you ... Read more
Somehow, don't ask me how, you got away with making most of the questions right and fu-baring the good ones. No matter. You are the M.C Escher poster (I just hope you at least got that one right) an... Read more
Let me be frank... No... it is you who are Frank! Hey you paid attention to the movie for the most part instead of doing what I did the first time I saw this - and make out with my significant other... Read more
"1.21 GIGAWATS!" Yes! You are Doc Brown! Hell I know you think it doesn't make any sense but remember when Donnie is talking about how he loved Back To The Future? Yeah - You are the master of spa... Read more
Take this test »