The Calvin and Hobbes G.R.O.S.S. Test
Their result for The Calvin and Hobbes G.R.O.S.S. Test ...
G.R.O.S.S. Member!
On Calvin and Hobbes knowledge you scored 55%
Welcome to the club buddy! Put on your newspaper hat! You are a certifiable, undeniable, Member of G.R.O.S.S.. You can DEFINATELY hold your own at Calvinball or picking boogers and all that other cool shit. But you could do better. Keep eating your Chocolate Frosted Sugar Bombs, your pizzas with extra anchovies and tuna fish sandwiches and you could be Calvin or even... Spaceman Spiff! Things could be worse though buddy. You could be sitting across the street with Susie Derkins and playing with Mr. Bun or Binky Betsy! Slimy GirlS? YUK!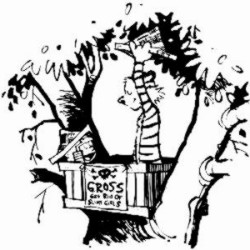 Their Analysis
(Vertical line = Average)
They scored 55% on knowledge, higher than 36% of your peers.
All possible test results
You are Susie Derkins! Looks like you got some Calvin and Hobbes knowledge but when it comes down to it, you're playing too much with Mr. Bun and Binky Betsy to get into the G.R.O.S.S. club. Th... Read more
Welcome to the club buddy! Put on your newspaper hat! You are a certifiable, undeniable, Member of G.R.O.S.S.. You can DEFINATELY hold your own at Calvinball or picking boogers and all that oth... Read more
You are Calvin! Not only are you a member of G.R.O.S.S., but you are also one of the Founding Fathers. Along with that you are Calvinball champion and inventor. I bet you have your subscription... Read more
Forget the G.R.O.S.S. club. You are Calvin to the MAX! Babysitters, Teachers and adults beware! You are Spaceman Spiff, Tracer Bullet and Stupendous Man all rolled into one. You are at the ulti... Read more
Take this test »
Recent Results
Tests others are taking