The X Files Dork Test
Their result for The X Files Dork Test ...
Phile Dork
You scored 86%!
You love The X Files. And you know your shit. And you are obsessed. But not scarily so. You still have a firm grasp on reality. Or maybe you just started watching the show too late or stopped watching too soon to know all of the answers. Either way your knowledge is still impressive and you are a true Phile. Message me, we should talk.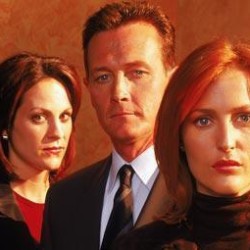 Their Analysis
(Vertical line = Average)
They scored 86% on Phile Points, higher than 62% of your peers.
All possible test results
You are the bane of any X Files Fan's existence if you truly are Erin M. Blair. I'm guessing though you probably are just some random person who took the test for amusement and never really watched T... Read more
Yeah maybe you watched some X Files. But not a whole lot. But you still appreciate the show for being cool and probably occasionally watch some reruns. But you never were a "fan" really. Read more
You watched some X Files at some point. You liked it because it was a cool show but are kind of confused by the mythology episodes because you never watched on a consistent or obsessed enough basis t... Read more
You were a loyal X Files viewer for a while and you still enjoy some reruns probably. You never got into the fan community or if you did it was on a casual basis. You probably don't own dvds or know... Read more
You claim to like The X Files a lot but generally say you stopped watching after Mulder left because you say it sucked. You don't know episode names or inane trivia but you do know about the plot of ... Read more
You love The X Files because you watch the show but probably never got involved in the scary fan community too deeply. So you don't have all the episode names down and don't know some of the more ina... Read more
You love The X Files. And you know your shit. And you are obsessed. But not scarily so. You still have a firm grasp on reality. Or maybe you just started watching the show too late or stopped wat... Read more
You really know your shit. Like me (the writer of the test) you probably spent most of the show's nine year run hanging out on X Files message boards, surfing for spoilers and rewatching episodes. Y... Read more
Take this test »