The Fisticuffs Psychology Test
Their result for The Fisticuffs Psychology Test ...
Overdogger
You prefer 68 % Aggression and 73 % Cunning!
You are the rare rooter for the Overdog. For example, I'm sure choosing between such lifelong winners as Superman and Darth Vader was tough, but I'm likewise sure you observed that Darth has no way to get Kryptonite, so it's tough titties for him. But the Death Star *did* blow up Krypton on its way to Yavin... This is one of the harsh realities of victory. Knowing what it takes to win, you're probably very successful in real life. You probably also know when you're beaten and live on to fight another day, and possibly to take revenge.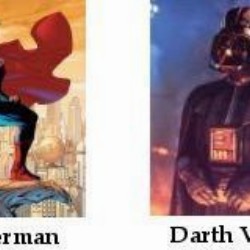 Their Analysis
(Vertical line = Average)
They scored 68% on Aggression, higher than 88% of your peers.

They scored 73% on Intelligence, higher than 65% of your peers.
All possible test results
Congratulations: you continuously identify with the weaker, less cunning, and more fuzzy opponent. You root for the underdog and the sure loser, and these are admirable qualities. You probably possess... Read more
Verily, I say! Thou hast proven thyself to be a most beguiling opponent! However, thou hast not proven thyself an angry man, as thou hast shewn theyself to prefer intellegence over mere brawn. A cla... Read more
Power, muscle, and overwhelming force. These have your utmost respect, and to you, they are the sole guarantees of victory. To crush a weaker opponent with unopposable stregth, this is the way. When I... Read more
You are the rare rooter for the Overdog. For example, I'm sure choosing between such lifelong winners as Superman and Darth Vader was tough, but I'm likewise sure you observed that Darth has no way to... Read more
Take this test »
Recent Results
Tests others are taking