The Reincarnated as a Pet Test
Their result for The Reincarnated as a Pet Test ...
Egyptian Mau
You lead a life of 90% virtue!!
The Mau (mau is the Egyptian word for cat) has been clearly identified in the artwork of the ancient Egyptians. The role of the Mau in the religion, mythology, and everyday life of the Egyptian conveys the degree of affection and respect in which these cats were held. They were worshipped as deities, cherished as pets, protected by laws, and mummified and mourned upon their death. As a Mau, you are devoted to the whole human family. You are loyal and intelligent, but because you are a cat, you can sometimes act aloof in social situations. You sometimes put a little too much emphasis on appearances and not enough emphasis on compassion.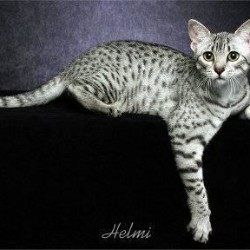 Their Analysis
(Vertical line = Average)
They scored 90% on Virtue, higher than 71% of your peers.
All possible test results
Feeder goldfish are bred and sold for the express purpose of being food for larger, more vicious animals such as turtles, snakes and other fish. They have a miserable, crowded existence. Because of ... Read more
Whoop, whooooop, whoop!! Guinea pigs are always chattering away and doing the same thing that every other guinea pig around is doing. This is you. You're just a little too concerned with what everyone... Read more
You just keep running and running. And sometimes you try going in different dirctions. But somehow you never seem to get anywhere. Stop being so middle of the road!! Pick a way to be and do it. You ar... Read more
The Mau (mau is the Egyptian word for cat) has been clearly identified in the artwork of the ancient Egyptians. The role of the Mau in the religion, mythology, and everyday life of the Egyptian convey... Read more
Temple dogs are an invaluable part of the human past. Many times these dogs were thought to hold the souls of beings destined to be lions. Many Buddhists also believed that golden temple dogs housed t... Read more
Take this test »