The Which Disney Princess Are You Test
Their result for The Which Disney Princess Are You Test ...
Jasmine
You scored 21 traditional and 38 vulnerability!
You are Jasmine, the headstrong and deep princess! Lots of boys come to meet you for what you consider to be the WRONG reasons and good for you! You're so much more than just a beautiful body and pretty face (although, you've definately got that going on) and your ideal mate better respect that! You're not about to let anyone tell you who you are. You are clever and would rather solve a problem than have it solved for you. You may be very beautiful, but you're not too worried about all the superficial stuff. You'd rather be loved for what's inside.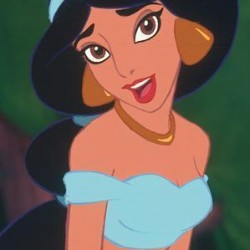 Their Analysis
(Vertical line = Average)
They scored 21% on traditional, higher than 29% of your peers.

They scored 38% on vulnerability, higher than 55% of your peers.
All possible test results
You are Jasmine, the headstrong and deep princess! Lots of boys come to meet you for what you consider to be the WRONG reasons and good for you! You're so much more than just a beautiful body and pr... Read more
You are Belle, from Beauty and the Beast! The beautiful, brainy and brave. You became a princess because you refused to be who everyone wanted you to be. You are not content to be just another pr... Read more
You are Mulan, the brave and brilliant, not to mention sexy, girl who saved the empire from the Huns by defying society's rules! You may not technically be a princess, but you've got it in you to be ... Read more
You are Cinderella, the downtrodden beauty who becomes a princess by being truly beautiful inside and out! A true rags to riches story! Life can be tough when you've got an evil step mother and two ... Read more
You are Ariel, the Little Mermaid princess of the sea! Check you out, you are princess of not one, but TWO kingdoms (land and sea)! You have a passionate way about you. For the most part you try to... Read more
You are Aurora of Sleeping Beauty. You are the pure and delicate princess of fairy tales! Chivalry isn't dead, not to you! You are the classic romantic and prince charming loves the chance to rescu... Read more
Take this test »
Recent Results
Tests others are taking