The In the End, YOU Shall Be Awarded a Naked Picture of Z0MB1E Test
HIGH? Err...
I want YOU to get a better score than this! I mean, what are you... some kind of retard? Seriously, who doesn't love video games, movies, The Simpsons, and zombies all in one package?
And don't give me that crap about, "Well, everyone has their own tastes." Blah, blah, blah! You have to understand that if you want to see me completely undressed, you will have only but one taste and one taste alone: PURE Z0MB1E!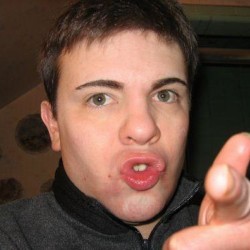 All possible test results
See? Didn't I promise you squash? DIDN'T I? Oh wait, I didn't. Sorry, I meant to correct this as the placement for "squat". But, I guess it's too late now. Not only do you not get squat, but you get a... Read more
I want YOU to get a better score than this! I mean, what are you... some kind of retard? Seriously, who doesn't love video games, movies, The Simpsons, and zombies all in one package? And don't gi... Read more
You know some stuff. You float around here and there, and well... you're about average when it comes to your smarts in these differential areas. But, that still means that you are not the best. You wi... Read more
You certainly know your stuff, be it gaming, movies, the reason as to why Homer has a crayon stuck in his brain, or the living undead. "UNNNGH! Me in need of braaaaains!" "Aisle 10 in the Hallo... Read more
A WINNER IS YOU! You have beaten the last boss, you have beaten every adversary that stands in your way, and now for the moment of moments to unveil the rewarding conclusion... a photograph of yours t... Read more
Take this test »