The Political Show Test
Their result for The Political Show Test ...
Liberal
You scored 72% liberal and 28% conservative!
You are a liberal. You believe liberty is the primary political value. You emphasize individual rights. You seek a society characterized by freedom of thought for individuals, limitations on power, especially of government and religion, the rule of law, the free exchange of ideas, a market economy that supports relatively free private enterprise, and a transparent system of government in which the rights of all citizens are protected. You favor a liberal democracy with open and fair elections, where all citizens have equal rights by law and an equal opportunity to succeed. You advocate a greater degree of government interference in the free market, often in the form of anti-discrimination laws, civil service examinations, universal education, and progressive taxation. This philosophy frequently extends to a belief that the government should provide for a degree of general welfare, including benefits for the unemployed, housing for the homeless, and medical care for the sick.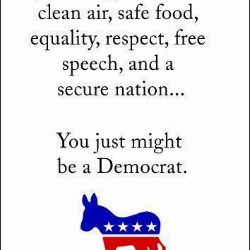 Their Analysis
(Vertical line = Average)
They scored 72% on liberal, higher than 80% of your peers.

They scored 28% on conservative, higher than 20% of your peers.
All possible test results
You voted for Ross Perot, didn't you? Or would've voted for him.. Based on your answers, you're simply not interested in politics. You think the two-party system is rigged, and that both parties are ... Read more
You are a moderate conservative. Moderate conservatism is a variant of conservatism that combines the classical conservative concern for established tradition, respect for authority and, sometimes, r... Read more
You are a conservative. You believe in a free market that has no government control. You are also a conservative socially, as you oppose gay marriage, affirmative action, gun control, and many social... Read more
You are a moderate liberal. You are a liberal because you believe all people deserve liberty, because you believe real problems can be solved, because you believe concentrated power must be held in c... Read more
You are a centrist. You advocate promoting moderate policies which land in the middle ground between different political extremes. Most commonly, this is visualized as part of the one-dimensional po... Read more
You are a moderate conservative. Moderate conservatism is a variant of conservatism that combines the classical conservative concern for established tradition, respect for authority and, sometimes, r... Read more
You are a liberal. You believe liberty is the primary political value. You emphasize individual rights. You seek a society characterized by freedom of thought for individuals, limitations on power, e... Read more
You are a moderate liberal. You are a liberal because you believe all people deserve liberty, because you believe real problems can be solved, because you believe concentrated power must be held in c... Read more
You believe in a third way philosophy which includes your belief that, in affirming the core principles involved on both sides of a dilemma, the dilemma or disagreement can be rendered moot. You argue... Read more
Take this test »