The Ferret IQ Test
Their result for The Ferret IQ Test ...
VERY FERRETY!
You scored 85 ferrety-ness!
You obviously have ferrets, you're very ferret-savy. Give your fuzzies a kiss and a raisen for me!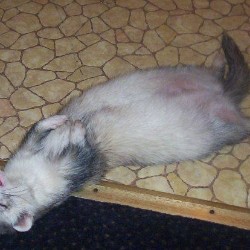 Their Analysis
(Vertical line = Average)
They scored 85% on ferrety-ness, higher than 85% of your peers.
All possible test results
Uht-oh...I hope that you never, ever get a ferret. You meanie! Read more
Hmm, you did okay on some of the questions but you lack a true knowledge of all things ferrty. Read more
Ok, you probably don't have any ferrets...but you could if you wanted to! You'd really enjoy ferrety antics and I highly recommened playing with one - you'll be hooked in no time! Read more
You obviously have ferrets, you're very ferret-savy. Give your fuzzies a kiss and a raisen for me! Read more
Take this test »