The Poetry Test
Their result for The Poetry Test ...
Legitimate Lyricist
You are ###% poetic
You should know that your title is called illeration. That's good, others didn't. You made it close to the top, you could use a little help. Seriously try some Emily Dickinson. You need to improve a little, but you are getting there.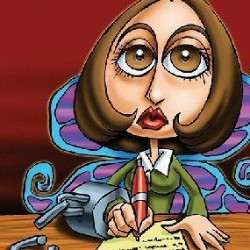 Their Analysis
(Vertical line = Average)
They scored 48% on Poet Points, higher than 3% of your peers.
All possible test results
Since you scored in this range, you probably don't know what that means, It means... you aren't very poetic... but then again who am I to judge the merits of another, maybe you should spend a little t... Read more
You scored pretty low... you need to brush up on your poet skills. If shakespear isn't your style, try reading lyrics sheets for your favorite cd's at least that will get you somewhere.... Read more
You should know that your title is called illeration. That's good, others didn't. You made it close to the top, you could use a little help. Seriously try some Emily Dickinson. You need to improve a l... Read more
You're good an you know it. I cant say much, becuase I am in the same catagory. Read more
You're better than I am. I have nothing to say to you. You probably get laid a lot though huh? Read more
Take this test »