The Blackadder Cunning Test
Their result for The Blackadder Cunning Test ...
Captain Darling
Congratulations! You scored ### turnips!
Not so bad. But you will really have to extend yourself if you want to come away from behind that desk and try to have a go at some real knowledge. You should rehearse a bit. And while you have a go, put the kettle on, will you, Darling?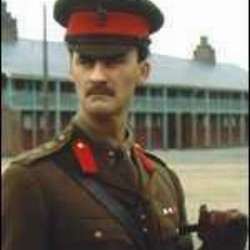 Their Analysis
(Vertical line = Average)
They scored 70% on turnips, higher than 68% of your peers.
All possible test results
Either this was a cunning plan to disguise yourself, or you are a just a rotten ignoramus with no more brains of a dung ball. Ask anyone, and they'll pick a very thick dung ball. At least for what Bla... Read more
Bravo! You are incredibly handsome and charming and you can't be bothered remembering all those boring details about who is who in Blackadder series or how you are supposed to put your trousers on. Ot... Read more
Not so bad. But you will really have to extend yourself if you want to come away from behind that desk and try to have a go at some real knowledge. You should rehearse a bit. And while you have a go, ... Read more
You did quite well, indeed. Your cunning and knowledge is as good as your alcohol resistance, i.e., quite good unless really tested hard. If you try it again, it will help putting a bit more passion i... Read more
Blackadder 91 - 100 = Excellent. You are so cunning that they use you as a model for cunning cunningness in Advanced Cunning lessons at the Cunning University of Cunning. An example for all of us. Now... Read more
Take this test »